What's New in iOS 10.2 Beta 2: SOS Feature, Music Changes and New 'TV' App
Apple seeded the second beta of iOS 10.2 to developers this morning, introducing a few new features that join changes introduced in the first beta of iOS 10.2.
As can be seen in the video and outline below, iOS 10.2 includes the TV app Apple promised at its October 27 event, some Apple Music design tweaks, and support for a new SOS feature.
TV app
- The TV app is designed to serve as an Apple-designed TV guide to help users discover new content and decide what to watch. It's going to be available for iOS devices and the Apple TV, and it features support for Single Sign-On and Siri Live Tune-In, along with a store for purchasing iTunes content and TV subscriptions and recommendations for new shows and movies to watch.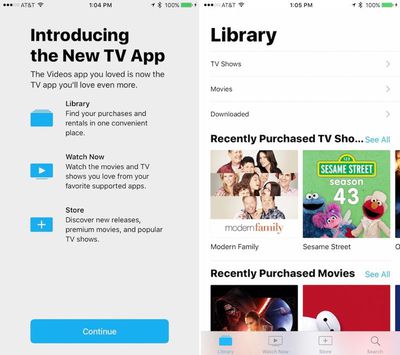 SOS - There's a new SOS feature that will call emergency services when the power button on the iPhone is pressed five times. According to Apple's release notes, SOS works in Australia, Belgium, Brazil, Canada, China, France, Hong Kong, India, Italy, Japan, Russia, Spain, UK, and US. Settings for SOS are available in the Settings app under the General section.


Music - There are more prominent Shuffle and Repeat buttons available in the Music app when playing a song.


The first beta of iOS 10.2 introduced a selection of new emoji and emoji redesigns, plus it included new wallpapers, a new "Celebrate" Screen Effect, a new option to save camera settings, a Videos widget, and support for Single Sign-On, a feature designed to let those with a cable subscription sign in once to access available content across multiple apps.
The second beta of iOS 10.2 is only available for developers, but Apple will likely make the beta available for public beta testers later this week. Apple has promised a December launch for several of the features in iOS 10.2 (including Single Sign-On and the TV app) so a public launch could come in the early days of the month.