Apple Seeds Second Beta of iOS 10.2 to Developers
Apple today seeded the second beta of an upcoming iOS 10.2 update to developers, one week after seeding the first beta of iOS 10.2 and two weeks after releasing iOS 10.1, the first major update to iOS 10.
Registered developers can download the second iOS 10.2 beta from the Apple Developer Center or over-the-air with the proper configuration profile installed.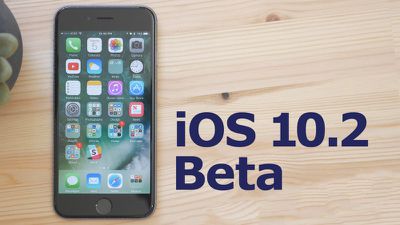 iOS 10.2 doesn't have a single main feature like Portrait mode in iOS 10.1, but it does offer several smaller feature tweaks. New emoji have been added in the update, including clown face, drooling face, selfie, face palm, fox face, owl, shark, butterfly, avocado, pancakes, croissant, and more. There are more than a hundred new emoji, including several profession emoji available in both male and female genders, such as firefighter, mechanic, lawyer, doctor, scientist, and more.
Apple has also redesigned many existing emoji, adding more detail and making them look much more realistic.
Along with new emoji, iOS 10.2 includes new wallpaper, new Music sorting options, a new "Celebrate" Screen Effect," an option for preserving camera settings, a Videos widget, Single-Sign On support for watching live TV via apps, and more.
Apple has called iOS 10 its "biggest release ever" for iOS users, with a revamped lock screen, a Siri SDK for developers, an overhauled Messages app, a dedicated "Home" app for HomeKit users, new facial and object recognition capabilities in Photos, and redesigned Maps and Apple Music apps.
What's new in iOS 10.2 beta 2:
TV app - iOS 10.2 includes the "TV" app that was shown off at Apple's October 27 event. The app is designed to serve as a TV guide to help users discover new content and decide what to watch.
SOS - There's a new SOS feature that will call emergency services when the power button on the iPhone is pressed five times. According to Apple's release notes, SOS works in Australia, Belgium, Brazil, Canada, China, France, Hong Kong, India, Italy, Japan, Russia, Spain, UK, and US. Settings for SOS are available in the Settings app under the General section.
Music - There are more prominent Shuffle and Repeat buttons available in the Music app when playing a song.