iOS 10.2 Beta 2 Includes New 'TV' App for Discovering Content
At its October 27 Mac-centric event, Apple announced a new "TV" app, which is designed to serve as a sort of TV guide, helping users discover new content and find TV shows and movies to watch. The TV app is meant to work across multiple devices, including iOS devices and the Apple TV, and as of today the TV app is available in the iOS 10.2 beta.
Apple's new TV app works hand-in-hand with features like Siri Live Tune-In and Single Sign-On, simplifying the television-watching experience.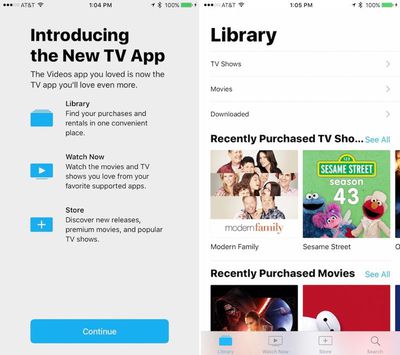 In addition to a Library section that displays all the iTunes content a user has purchased, the TV app also features a "Watch Now" section that houses a collection of TV shows and movies from iTunes and other television apps a user has installed on an Apple TV or iOS device.
An Up Next feature keeps track of TV shows and movies across devices so you can pick up where you were watching, whether in the middle of a movie or the next episode of a TV show, and there are lists of curated and trending TV shows and movies.
A dedicated store lets users purchase content from iTunes or from other sources like HBO Go. The Store section also lets users sign in with their TV provider to find content available through an authenticated cable subscription.
Apple's release notes state that the TV app isn't yet fully functional, and it does not appear to be available in the tvOS 10.1 beta just yet. Apple has said the TV app will see an official release in December.