Softorino today announced the launch of its next-generation WALTR app, introducing WALTR 2 for Mac. WALTR 2 builds on the features introduced with the original WALTR app, making it easier than ever to transfer any file from a Mac to an iOS device.
With WALTR 2, you can transfer all kinds of media file types to an iPhone or iPad, even if they're not in a format that's normally compatible with iOS. It supports music, ringtones, videos, PDFs, ePubs, and more, converting files when necessary. If you transfer an MKV or AVI, for example, WALTR 2 will convert it to a usable format and put it directly in the built-in iOS video app.
The same goes for music -- upload any music file and it'll be transferred to the Music app with no loss of quality. Uploaded music is even properly recognized in Apple Music.
Using WALTR 2 is simple. You open the WALTR 2 app, plug your iPhone or iPad into your Mac (or use the new Wi-Fi feature) and then simply drag and drop the file you want to transfer to an iOS device into WALTR 2. WALTR 2 works with all iPods, iPads, and iPhones, starting with the iPod Classic from 2001.
With Automatic Content Recognition for music, movies, and TV shows, WALTR 2 can fill in metadata information, and a new Wi-Fi detection feature allows WALTR 2 to automatically find nearby iOS devices so transferring content can be done without a USB cable if desired. File transfers go much quicker with a cable though, with Softorino promising average transfer speeds of 2GB per minute.
New to WALTR 2 is support for ePUBs, PDFs, and audiobooks, which are automatically uploaded to the iBooks app. WALTR 2 can also be used to upload full-length ringtones to the iPhone and it supports subtitle files. Supported audio formats include MP3, FLAC, APE, ALAC, AAC, AIFF, WAV, WMA, OGG, OGA, WV, TTA, and DFF, while supported video formats include MKV, AVI, MP4, MOV, MPEG, m2ts, 3GP, WMV, H264, and H265.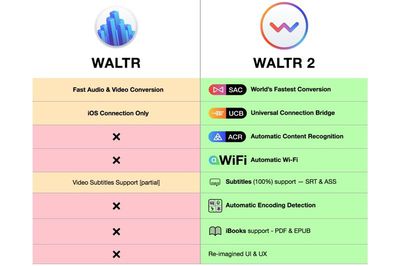 WALTR 2 is available for download from the Softorino website for $39.95. Existing WALTR users can upgrade for $19.95. Downloading the app offers users with a 24-hour free trial to try it out.
We're also giving away 10 copies of WALTR 2 to MacRumors readers. To enter to win, use the Rafflecopter widget below and enter an email address. Email addresses will be used solely for contact purposes to reach the winners and send the prizes. You can earn additional entries by subscribing to our weekly newsletter, subscribing to our YouTube channel, following us on Twitter, or visiting the MacRumors Facebook page.
Due to the complexities of international laws regarding giveaways, only U.S. residents who are 18 years of age or older are eligible to enter. To offer feedback or get more information on the giveaway restrictions, please refer to our Site Feedback section, as that is where discussion of the rules will be redirected.