Roundup: Hands-On With Touch Bar on New MacBook Pros
One of the headline features of Apple's new MacBook Pros is the Touch Bar, a Multi-Touch-enabled strip of glass above the keyboard that provides instant access to tools and commands that change contextually based on the app you are using or system task you are carrying out. It also has Touch ID built in.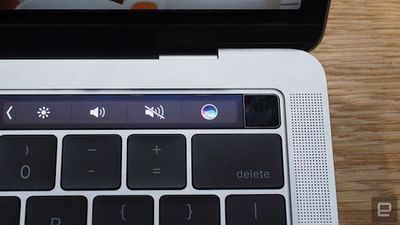 Siri and Touch ID (Image: AOL)
The all-new Touch Bar replaces the standard row of function keys on the new MacBook Pros, with system controls like an escape key, power, volume, and brightness still accessible at times. The middle part of the Touch Bar is the Control Strip, which changes automatically based on what you are doing.
Apple provided the media with an opportunity to demo the new Touch Bar following its "Hello Again" event earlier today, and a number of websites have now published early hands-on looks at the new feature. Read ahead for a roundup of Touch Bar first impressions alongside photos of it in action.

Image: Dieter Bohn/The Verge
Dieter Bohn at The Verge
noted the Touch Bar has a matte finish, which gives the on-screen controls a little more of a physical feel:
What you might not have gathered from the keynote is that it has a matte finish, which makes the buttons on it somehow feel a little more physical. It's bright, but not so bright that it distracts — it seems to be about on par with the brightness of the backlit keyboard.
Bohn added that the Touch Bar controls can be rearranged, while you can long-press on buttons to get to functions faster. Tapping and holding on Reply, for example, allows you to slide your finger over to Reply All. There is no haptic feedback when tapping controls, but Bohn said the Touch Bar worked accurately.
Brian Heater at TechCrunch said the Touch Bar is "glossy" but "not quite slick," making it "frictionless enough so as to run a finger across with little effort."
The new Touch Bar is essentially a secondary Retina display that Heater described as "quick and responsive" during his demo:
It's quick and responsive, reacting to multi-touch and the amount of pressure the user applies. It also adapts quite quickly as you toggle between different apps. It's a really cool and really versatile new addition – like having a small mobile display embedded directly into the Notebook.
While the Touch Bar is mostly grayscale, it has some color. When using apps such as Messages, for example, you can access a row of frequently used emojis.

Image: Brian Heater/TechCrunch
Michael Gorman at Engadget
said Touch ID on the Touch Bar is "considerably faster than typing in a password" to unlock your Mac:
Plus at the right edge of that strip lies a Touch ID sensor, that allows folks to login to their Macs via their fingertips. In the limited time I spent with the new Pro, that sensor worked as it should -- which is to say considerably faster than typing in a password.
Ina Fried at Recode said the Touch Bar "looks like the kind of thing that those who spend all day on a laptop will grow to really love."
AppleInsider shared a brief hands-on video:
Apple's new MacBook Pros with Touch Bars are
available for pre-order today
and will begin shipping in 2-3 weeks. Pricing starts at $1,799 for the 13-inch model, while the 15-inch model starts at $2,399. A new 13-inch MacBook Pro with traditional function keys is available for $1,499 and ships as early as today.