Apple today released a major update for Final Cut Pro X, its video editing software aimed at professionals. Today's update includes a new look for the software, support for the Touch Bar included in the new MacBook Pro, and a host of other features.
Final Cut Pro X features a revamped interface that's designed to streamline the layout for optimal screen space on the MacBook Pro, plus it includes a darker, flat look for more focus on content. There are customizable workspaces that let users select ideal layout options for organizing, editing, and color grading, even across more than one monitor. Full support for wide color workflows is included.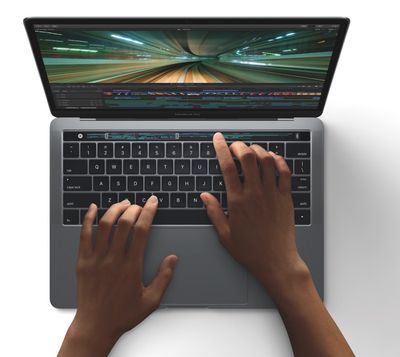 "This is our biggest update to Final Cut Pro X since we completely redesigned it five years ago," said Susan Prescott, Apple's vice president of Apps Product Marketing. "The new version features a sleek interface and adds powerful new editing features that go far beyond what's possible with traditional, track-based video editing apps; and integration with the revolutionary Touch Bar gives professional video editors a whole new way to interact with Final Cut Pro X."
There's a new Magnetic Timeline to make it easier to see a full film at a glance. Dialogue, music, and effects are all highlighted with custom color coding, and there's now an option to drag and rearrange the vertical layout of a timeline or highlight audio roles during the editing process.
The Final Cut Pro X update also includes support for the Touch Bar on the MacBook Pro, introducing dynamic controls that change based on which tool is in use. With the Tool Bar, users can do things like adjust audio levels, trim, navigate through a timeline, initiate playback, and more.
Motion 5.3 and Compressor 5.3 have also been updated with Touch Bar support and a new darker look to match the Final Cut Pro X update. Motion 5.3 includes support for wide color workflows and 3D text enhancements, plus it offers a new Align behavior for quickly connecting separate objects. Compressor 4.3 features wide color support and updates and improvements that make it quicker to deliver packages to the iTunes Store.
Final Cut Pro X can be downloaded from the Mac App Store for $299.99. [Direct Link]
Motion can be downloaded from the Mac App Store for $49.99. [Direct Link]
Compressor can be downloaded from the Mac App Store for $49.99. [Direct Link]