Apple Sold 70% Fewer Apple Watches This Summer Compared to Last
The latest numbers from market research firm IDC reveal Apple Watch shipments totaled an estimated 1.1 million units in the third quarter, reflecting a three-month period between July and September, a sharp 71.6% decline compared to an estimated 3.9 million Apple Watch shipments last summer.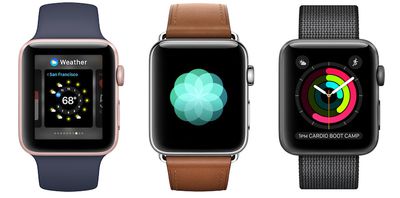 The decline can be at least partially attributed to the lack of an Apple Watch refresh until the final two weeks of the quarter, when the Apple Watch Series 2 and slightly updated first-generation models launched. The overall smartwatch market also declined an estimated 51.6% in the third quarter.
Apple still maintained its position as the overall leader of the worldwide smartwatch market with an estimated 41.3% market share, despite posting the second largest year-over-year decline among the leading vendors. Garmin finished in second with an estimated 20.5% market share following strong 342.2% growth.


Garmin's growing list of ConnectIQ-enabled smartwatches and the new fenix Chronos allowed it to leapfrog Samsung, which captured only 14.4% market share based on an estimated 400,000 smartwatch shipments, according to IDC. Lenovo and Pebble rounded off the top five with an estimated 100,000 shipments respectively.
Apple does not disclose Watch sales in its quarterly earning results, instead grouping the device under its "Other Products" category alongside the likes of iPods, Apple TVs, Beats, and accessories. The focus will now shift to the more important fourth quarter, encompassing the busy holiday shopping season.