IBM Says Macs Are Up to $543 Less Expensive Than PCs Over Time
At the Jamf Nation User Conference yesterday, designed for IT management professionals, IBM VP of Workplace as a Service Fletcher Previn talked about IBM's decision to start letting employees choose between Windows or Mac machines, the cost of PCs vs. Macs, and the resulting changes to the company.
IBM began adopting Macs for its employees in mid-2015, quickly becoming one of Apple's largest corporate customers. In the first year, IBM deployed approximately 30,000 Macs, and with employees have continuing to choose Macs over PCs, IBM now has 90,000 deployed Macs supported by five admins.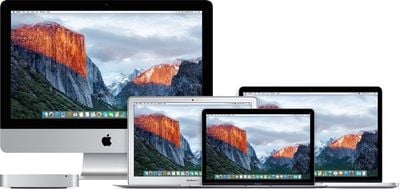 There were assumptions early on that Macs would be significantly more expensive than PCs, but over the last year, IBM has found that it's actually PCs that are more expensive. Over a four-year lifespan, Previn says IBM saves up to $543 per Mac compared to a PC.
But isn't it expensive, and doesn't it overload IT? No. IBM found that not only do PCs drive twice the amount of support calls, they're also three times more expensive. That's right, depending on the model, IBM is saving anywhere from $273 - $543 per Mac compared to a PC, over a four-year lifespan. "And this reflects the best pricing we've ever gotten from Microsoft," Previn said. Multiply that number by the 100,000+ Macs IBM expects to have deployed by the end of the year, and we're talking some serious savings.
At last year's Jamf conference, Previn made similar comments. At the time, it had been only months since IBM deployed the Macs, but already, IBM had been noticing savings because Macs required less management and setup efforts than PCs, despite costing more up front. "Every Mac that we buy is making and saving IBM money," Previn said last year, and at this year's conference, that remained true. "Every Mac we buy is in fact continuing to make and save IBM money," he reiterated.
Macs are continuing to grow in popularity with IBM employees, and 73 percent say they want their next machine to be a Mac. To keep up with demand, IBM is deploying 1,300 new Macs each week, using Jamf and Apple's Device Enrollment Program to get new users set up quickly.
Employees receive a consumer experience from the moment they receive their Mac, which continues with a Workstation Asset Management Tool and a re-designed intranet, providing employees with an Apple-like, self-help experience. Not only do these additions drive self-sufficiency among employees, but they also help create confidence with the product.
Along with IBM's success, the Jamf conference also highlighted the use of Apple products in schools and in healthcare. In La Crosse, Wisconsin, students across 11 elementary schools, six middle schools, and four high schools successfully use iPads and MacBooks in the classroom to meet unique learning needs.
At the upcoming Jacobs Medical Center at the University of California, San Diego, iPads and Apple TVs will be deployed in 245 patient rooms to make it easier for patients to access their medical records, get medication reminders, and control lights, blinds, and room temperature.