iPhone 7 Plus in Jet Black Now Widely Available at U.S. Apple Stores
Since launching nearly one month ago, the iPhone 7 Plus in Jet Black has been challenging to find at Apple Stores in the United States -- until today, that is. A spot check of iStockNow reveals the popular model is now at least temporarily available at a number of Apple's retail locations nationwide.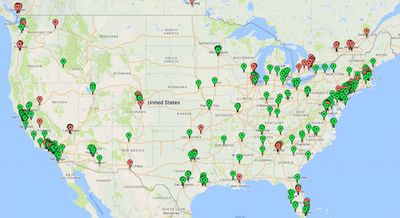 Jet Black iPhone 7 Plus stock as of October 14 at 11:45 a.m. Pacific Time
Jet Black iPhone 7 Plus models are currently in stock at a number of Apple Stores in several states, including major cities such as Chicago, Houston, Los Angeles, Miami, New York, Philadelphia, Phoenix, San Diego, and San Francisco, at the time of publication. Availability varies based on carrier, color, and storage capacity.
iStockNow uses Google Maps to visualize the real-time status of iPhone 7 and iPhone 7 Plus availability at Apple Stores in the United States and other countries, likely based on Apple's reservation system backend. Nevertheless, placing an online reservation or calling your local store ahead of time is highly recommended.
Apple Stores with Jet Black iPhone 7 Plus availability will display a green marker upon setting search filters for that model. Clicking on an individual marker opens a window with an expanded model-by-model breakdown of availability, and the time that stock was last updated at that location.


Jet Black iPhones have faced a global shortage as the new high-gloss finish has proven challenging to manufacture. The models suffer from a low casing production yield rate of 60-70%, meaning that 30-40% of units do not pass Apple's quality standards and must be reworked, according to KGI Securities analyst Ming-Chi Kuo.
Apple says the high-gloss Jet Black finish is achieved through a precision nine-step anodization and polishing process.
When pre-orders began on September 9, shipping estimates for Jet Black models quickly slipped to November, but some iPhone 7 Plus models in the new color shipped sooner than expected. Apple's current shipping estimate for Jet Black models is 6-8 weeks for both carrier-locked and newly released SIM-free models.
While in-store stock is available in the U.S. at the time this article was published, supplies will likely be depleted very quickly.