The United States Patent and Trademark Office today
granted
Apple another patent that could help the company create a bezel-free, edge-to-edge display for future generation iPhones. The new patent describes "electronic devices with display-integrated light sensors" and specifically refers to methods by which the company could stack the iPhone's ambient light sensor underneath the display, instead of next to it on the iPhone's bezel (via
AppleInsider
).
In the patent, there are a few configurations through which Apple could execute the technology. One showcases the light sensors -- which help the iPhone detect the ambient light in a room or outside -- integrated directly above the touch-sensitive layer of the display (figure 6), while another has the sensor placed next to the touch-sensitive layer without intersecting it (figure 9). The patent notes that the methods of executing this technology aren't limited to just light sensors, but could be used for "a proximity sensor, or any other sensor."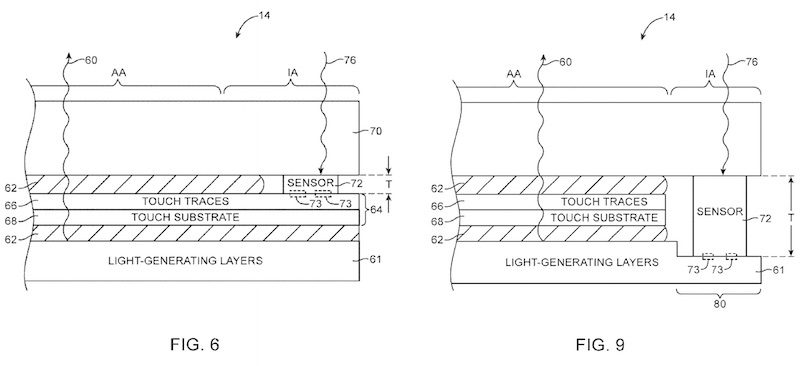 In a typical device, a light sensor is laterally displaced from an active display region of the display along a front face of the device. Additional space is therefore provided in common devices at the top, bottom, or side of the active display area to accommodate the light sensor.

This can result in an undesirable increase in the size and weight of the device, if care is not taken, displays may be bulky or may be surrounded by overly large borders. It would therefore be desirable to be able to provide improved electronic devices with light sensors and displays.
In the above images, there are two sections of the device's display that Apple notes in the patent as "AA" and "IA." AA is considered the display area that functionally gives information to the user and which responds to touch-based input, while IA -- covering the proposed screen-integrated sensor technology -- is referred to as an "inactive border region."
The patent describes the inactive region of IA as covered with an "opaque masking material such as a layer of black ink (e.g., a polymer filled with carbon black) or a layer of opaque metal," and surrounding the active region of AA. The ultimate goal of IA is apparently to hide components in the interior of a device from user view by camouflaging the region to look similarly like the active display it borders.
In effect, this could mean a future iPhone would successfully lose the bezels of the current generations and gain an edge-to-edge display, but not all portions of that display would be interactive.
Last week, Apple was
granted another patent
hinting at future iPhone technology that could integrate a fingerprint sensor directly into the display of a device, instead of requiring a separate component and taking up space below the screen of iPhones and iPads. With these two patents, Apple is slowly discover ways to remove the bezel from the bottom of an iPhone (Home Button/Touch ID) and the top (light sensor), although it remains to be seen how the company would handle the front-facing FaceTime camera and speaker in this scenario.