Apple Says 1,000 Fraudulent Reviews Were Detected Across Two Accounts Owned by 'Dash' Developer [Update: Developer Responds]
Last week, popular API documentation browser Dash was removed from the App Store after Apple accused Dash's developer of fraudulent conduct and claimed he manipulated App Store reviews.
At the time, the developer denied the accusations and garnered the support of Dash app users who believed there had been a mix up and that he was not guilty, but Apple today provided more information to justify its position and the app's removal from the App Store.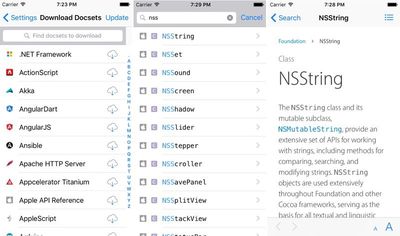 In statements given to iMore and The Loop, Apple says the developer owned two accounts with 25 apps, which had nearly 1,000 fake reviews. Both fraudulent positive reviews for his own apps and negative reviews for competing apps were involved.
"Almost 1,000 fraudulent reviews were detected across two accounts and 25 apps for this developer so we removed their apps and accounts from the App Store," Apple spokesperson, Tom Neumayr, said in a statement provided to The Loop on Monday.

"Warning was given in advance of the termination and attempts were made to resolve the issue with the developer but they were unsuccessful. We will terminate developer accounts for ratings and review fraud, including actions designed to hurt other developers. This is a responsibility that we take very seriously, on behalf of all of our customers and developers."
According to The Loop's Jim Dalrymple, Apple first sent a warning to the developer behind Dash two years ago and attempted to work with him "for some time" to put a stop to the App Store fraud. The behavior did not stop, leading to the account's termination last week.
Dash's developer specifically denied having been involved in App Store review manipulation in the blog post announcing Dash's removal from the App Store, but Apple has been adamant that fraud took place. Apple's marketing chief Phil Schiller even got involved, confirming to a concerned developer that ratings and review fraud had led to the app's removal.
Apple's decision is final and there is no further appeals process, according to Dash's developer, who has yet to respond to the information Apple has provided today. Dash for iOS is unlikely to return to the iOS App Store, but Dash for Mac remains available outside of the Mac App Store.
Update: The developer behind Dash has shared his side of the story, placing the blame on a relative whose Apple Developer Program Membership he paid for.
He says he was not aware his account was linked to another until Friday and that he was not notified about any wrongdoing. He has shared a recorded phone conversation in which Apple says it will reactivate his account if he makes a blog post stating the truth that his account had been linked to an account with fraudulent activity.