'Dash' App Removed From App Store for Alleged Review Manipulation
Popular API documentation browser Dash was yesterday pulled from the App Store after a routine migration request. Dash developer Bogdan Popescu was given no explanation for why the app had been pulled aside from "fraudulent conduct," but after a conversation with Apple, he's been accused of manipulating App Store reviews.
Popescu received a "Notice of Termination" email yesterday and his iTunes Connect account was shut down. Apple initially declined to offer more information, but after Dash's App Store removal started making headlines, Apple told Popescu it was due to App Store review manipulation, such as paying for positive reviews, something he denies doing.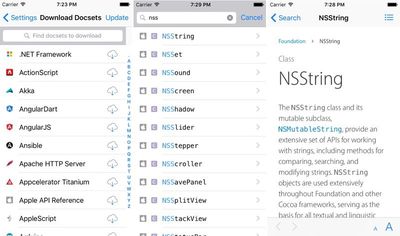 Update: Apple contacted me and told me they found evidence of App Store review manipulation. This is something I've never done.

Apple's decision is final and can't be appealed.
Despite Popescu's denial, Apple appears to be adamant that some sort of fraud took place. Apple's marketing chief Phil Schiller has stepped in and commented on the situation, through an email sent to Matthew Els, who asked him about the situation.
Hi Matthew,

Thanks for your email about this app.

I did look into this situation when I read about it today. I am told this app was removed due to repeated fraudulent activity.

We often terminate developer accounts for ratings and review fraud, including actions designed to hurt other developers. This is a responsibility that we take very seriously, on behalf of all of our customers and developers.

I hope that you understand the importance of protecting the App Store from repeated fraudulent activity.

Thank you,
Phil
At this time, Popescu says that Apple's decision is final and the app will not be returned to the App Store. The developer community seems to be surprised by the accusation, with many calling Dash a quality app that wouldn't have needed to boost its reviews.
It's not clear what's going on, and the App Store reviews for Dash are no longer visible as the app has been pulled. As developer Steven Troughton-Smith points out, if Popescu didn't manipulate his own reviews, it's possible he's been targeted maliciously by a third party or that Apple's flagging system made a mistake. With Apple's Phil Schiller having looked into the situation, the latter option seems unlikely.
Dash by @kapeli is used by thousands of devs and has been for years. I use it myself for my iOS reviews. They don't need to buy reviews…? — Federico Viticci (@viticci) October 6, 2016
Dash for Mac remains available outside of the Mac App Store, and Popescu is encouraging Dash for Mac users to migrate from the Mac App Store version. It is unclear if the iOS version will be reinstated.