Feral Interactive announced today that the popular open world, third-person action game Mad Max is coming to the Mac on October 20, 2016.
Originally developed by Avalanche Studios and published by Warner Brothers Interactive Entertainment, the game features an original story set within the universe of Mad Max.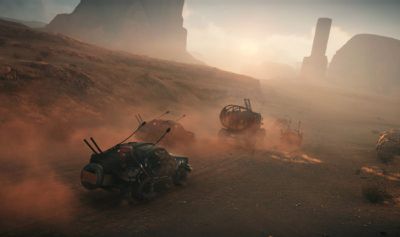 Players take the role of lone warrior Max and must fight for survival against The Wasteland's savage factions by engaging in melée combat and vehicular combat.

Following the theft of his Interceptor, Max teams up with the gifted mechanic Chumbucket to build the ultimate survival vehicle, the "Magnum Opus". Players can design, customize and upgrade their vehicle by choosing from different car chassis and a myriad of upgrades including mounted weapons, armor and engines in order to escape to the Plains of Silence.

As they navigate The Wasteland, gamers will encounter a huge variety of enemies, in a gigantic post-apocalyptic open-world with a range of immersive locations, many of them remnants of the world before the apocalypse.
Originally debuting on console and PC last year, Mad Max was praised by reviewers for its car combat mechanics and graphics, although some criticized the story as well as the melee combat's more repetitive elements.
The minimum system requirements for Mad Max are an Intel i5 3.2 GHz CPU with at least 8GB RAM, 2GB or better graphics card, and Mac OS X 10.11.6 or later. The game also requires an NVIDIA 680 or AMD R9 290 series graphics card or better.
Further information is available at Feral's mini-site for the game.