FCC Votes to Improve Emergency Smartphone Alerts With Longer Character Limits, Link Support
Emergency alerts delivered to iPhones and other smartphones to warn customers about poor weather conditions, missing children, local crime, and more, may soon feature support for web links, photos, phone numbers, and longer message content.
The United States Federal Communications Commission on Thursday voted to expand emergency alerts from 90 to 360 characters on 4G and LTE networks, and to include support for links so people can follow up to get more information about an unfolding situation. As it stands, emergency alerts are short in length and often offer no resources for people to get in contact with emergency personnel if necessary.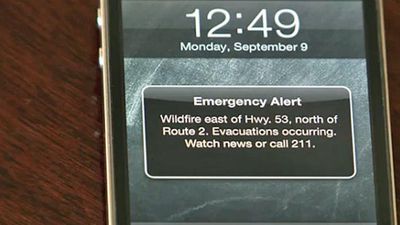 Wireless providers like Verizon, AT&T, Sprint, and T-Mobile send these alerts and will be required to update their systems with support for the new features that have been mandated by the FCC.
"Vague directives in text about where to find more information about a suspect, just as we saw in New York, are not good enough," said Jessica Rosenworcel, an FCC commissioner. "As we move into the 5G future, we need to ensure that multimedia is available in all of our alert messages."
Carriers will also need to start supporting the transmission of Spanish language alerts and introduce a new type of safety alert designed to send "Emergency Governmental Information" like the locations of emergency shelters or an order to boil water before drinking.
The FCC's decision follows criticism of the emergency alert system after alerts were sent out in New York and New Jersey asking citizens to help track down a man suspected of setting off bombs in the area. The alert included a message advising people to "See media for pic," highlighting its shortcomings. It is not clear when the new rules will go into effect.