Apple to Offer 'Spoken Editions' of Written News on iTunes [Update: Now Live]
Apple is planning on turning news stories and articles from popular news sites into audio podcasts called "Spoken Editions," reports TechCrunch. Spoken Editions will be short broadcasts that transform content from publishers into spoken word instead of written word, making it possible for customers to listen to their favorite news sites.
An early leak on iTunes suggests Apple has already teamed up with several publishers, including Wired, TIME, and Forbes, offering dedicated "Spoken Edition" sections on company iTunes pages.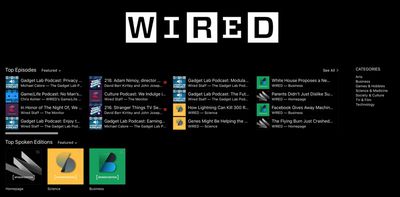 Wired, for example, will launch Spoken Editions for "Business," "Science," and its homepage. TIME has will offer a Spoken Edition called "The Brief." Forbes, .Mic, Bustle, Playboy, OZY, and - yep - TechCrunch (which I discovered while browsing our iTunes page, of all things), will have Spoken Editions, it seems, as all popped up for a time on iTunes.

The links to all the publishers' Spoken Editions have since been pulled, after our discovery and outreach.
Some digging by TechCrunch suggests many of the publishers' Spoken Edition podcasts were created by SpokenLayer, a company that creates streaming audio and podcasts for media brands using text. SpokenLayer already works with a host of publishers like Forbes, Huffington Post, TIME, Reuters, and more, with audio recordings distributed on iTunes, SoundCloud, and other sources.
Spoken Editions will include audio ads, with revenue shared between the publisher and SpokenLayer, and the company makes an effort to make sure each brand sounds unique. "We make sure Wired sounds like Wired and any other publication sounds like those publications," SpokenLayer CEO Will Mayo told TechCrunch.
Spoken Editions are set to launch soon, rolling out in early October.
Update 10/3: Spoken Editions are now live.