iPhone 7 and Apple Watch Series 2 Launch Around the World
As the iPhone 7 and Apple Watch Series 2 go on sale around the world today, Apple has begun collecting photos from Apple retail locations and shared them on its website. This morning, CEO Tim Cook tweeted the short blog post, depicting customers excitedly purchasing the new devices at Apple locations across the globe.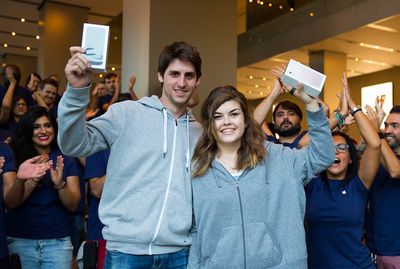 Specifically, there are images from
Apple Passeig de Gràcia
in Spain,
Apple Causeway Bay
in Hong Kong,
Apple Omotesando
in Tokyo, and
Apple Sydney
in Australia.


Thanks to time zone differences, a few customers in New Zealand began receiving their iPhone 7 and iPhone 7 Plus pre-orders yesterday, sharing a few unboxed images of the smartphones online. In the Sydney Apple location, a group of students who had been waiting in line for the iPhone 7 Plus in Jet Black -- which was confirmed to be sold out on Wednesday -- walked away with $100 gift cards and two iPhone 7 models each.


With hype surrounding the iPhone 7, the Apple Watch Series 2 hasn't received as much attention. Apple's wearable device has faced a few pre-order snafus of its own, however, with Best Buy informing early pre-order customers that their launch day shipments would be delayed nearly two weeks. The retailer did the same thing for a few unfortunate iPhone 7 customers, and in compensation offered gift cards to be put towards a future purchase at Best Buy: $50 for Apple Watch pre-orders and $100 for iPhone 7 pre-orders.


For plenty of customers who pre-ordered early last Friday, their shipments should be arriving as the day progresses. If you're waiting for your own device, be sure to check out the MacRumors forums to view iPhone 7 and Apple Watch Series 2 launch day posts from other members.