Best Buy Delays Apple Watch Series 2 Shipments, Offers $50 Promo Code as Compensation
Many customers who pre-ordered the Apple Watch Series 2 from Best Buy will not be receiving their new devices on launch day, according to emails the company sent out this evening.
During pre-orders that took place on Friday, September 9, Best Buy listed a Friday, September 16 delivery date, leading customers to believe they would receive their devices on launch day. Instead, Best Buy won't be shipping out orders until 9/28, nearly two weeks later.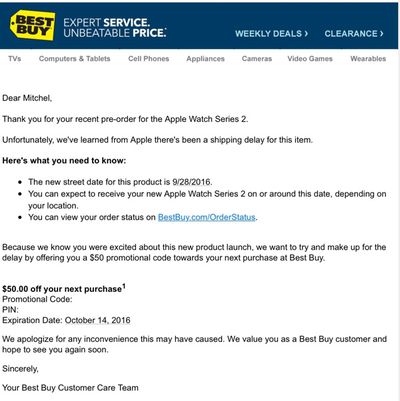 To compensate pre-order customers who are facing delays, Best Buy has included a promo code for a $50 discount on a future Best Buy purchase in each email, which must be used by October 14, 2016. That will get pre-order customers an extra Sport Band or another Apple Watch accessory.
Customers affected have ordered a wide range of Apple Watch Series 2 models, including the stainless steel Apple Watch with White Sport Band and various Sport configurations.
Apple Watch Series 2 supplies were constrained from the moment Apple's pre-orders started, with shipping estimates on many models slipping within a matter of minutes, so it is no surprise Best Buy has been forced to delay its own shipments. Most Apple Watch Series 2 models placed today won't ship from Apple for 3 to 5 weeks, and Best Buy now lists all Series 2 watches as "Coming Soon."