Apple Surveying MacBook Pro Users About Headphone Jack and Other Ports
In recent weeks, Apple has been sending out surveys to users asking about MacBook Pro features, most notably the headphone jack. A survey question shared by MacRumors reader Blake asks "Do you ever use the headphone port on your MacBook Pro with Retina display?"
There are several other reports on Twitter from users who have been asked similar questions about the headphone jack, suggesting Apple is exploring the removal of the headphone jack in a future version of the MacBook Pro. Apple has eliminated the headphone jack from the iPhone, so it makes sense that the trend will continue for other products.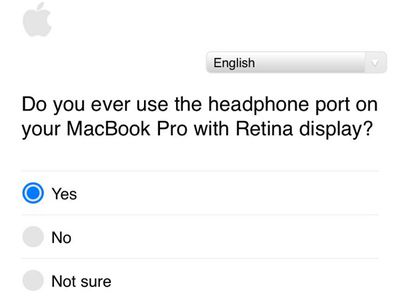 Apple is also asking users about battery life and other ports, including the SD card slot. One question asked "How do you upload photos from a digital camera or phone to your MacBook Pro with Retina Display?"
Based on a leaked MacBook Pro shell, the upcoming MacBook Pro will include four USB-C ports and a headphone jack, with Apple doing away with all other ports on the machine. If the shell is an actual part, the machine will not include an SD card slot, HDMI port, USB-A port, or a MagSafe connection.
The design of the MacBook Pro that's launching in 2016 has already been finalized ahead of its release, and Apple is likely to continue using the same design for several years going forward, so the removal of the headphone jack is probably not something that MacBook Pro users need to worry about for the foreseeable future.
Rumors suggest Apple will release a redesigned MacBook Pro with a redesigned chassis and an OLED touch panel as early as October.