Dropbox has said it needs to do a "better job" of communicating its OS X integration, after claims emerged online that its Mac app was phishing for user passwords and even "hacks" the operating system on installation.
Developers of the cloud storage service were forced to reply to accusations which appeared on Hacker News that the client app was a security risk and "couldn't be trusted", because of the way it takes control of system features without asking for permission to do so.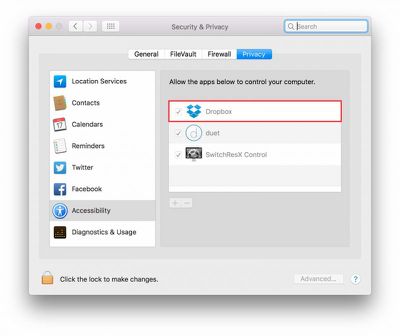 Dropbox gains access to Accessibility features without requesting access.
Concerns were raised after it was
demonstrated
that Dropbox appears in the Security & Privacy tab for Accessibility, despite the fact that users are never prompted to grant access to the features.
Let's assume for the sake of argument that Dropbox never does any evil on your computer. It remains the fact that the Dropbox process has that ability. And that means, if Dropbox itself has a bug in it, it's possible an attacker could take control of your computer by hijacking flaws in Dropbox's code. Of course, that's entirely theoretical, but all security risks are until someone exploits them. The essence of good computer security and indeed the very reason why OSX has these kinds of safeguards in place to begin with is that apps should not have permissions greater than those that they need to do their job.

Responding to the accusations, Dropbox said it only asks for the permissions it needs and uses the Accessibility features for certain app integrations like Office, although the permissions aren't as "granular" as the company would like.

Dropbox, like other apps, requires additional permissions to enable certain features and integrations. The operating system on a user's device may ask them to input their password to confirm. Dropbox never sees or receives these passwords. Reports of Dropbox spoofing interfaces, or capturing system passwords are absolutely false. We realize that we can do a better job communicating how these permissions are used, and we're working on improving this.
Dropbox said it was working with Apple to reduce its dependence on elevated access in macOS Sierra, and will respect when people disable Dropbox's Accessibility permissions. In the meantime, Hacker News wants the firm to more explicitly outline why it needs the permissions it does.
The latest news comes at a sensitive time for the cloud storage outfit. Two weeks ago, it was revealed that over 68 million Dropbox accounts were implicated in a hack that took place in 2012.
Due to a password hack connected to other websites, hackers were able to sign in to "a small number" of Dropbox accounts, said the company, including an employee's who had access to a document listing an array of user email addresses. But when Dropbox announced a preventative password reset measure, it made no mention of the extent of the users touched by the four-year-old hack.
Earlier this year, Dropbox was also forced to defend a feature called Project Infinite, which allows users to access all of the content in their account as if it is stored on their own machine, regardless of how small their hard disk is. The feature requires kernel-level access to computers in order to function, which critics suggested could leave it open to serious vulnerabilities.
Update: Dropbox has contacted MacRumors to reiterate that it "categorically denies" its Mac client phishes for user passwords or "hacks" the operating system on installation, but agreed that "we need to do more to be more transparent and make it clearer why we need access permission to a Mac OS". The company also added that the account information stolen in 2012 was hashed and salted, meaning it is unlikely hackers were able to obtain many of the users' actual passwords.