Tim Cook Shares First Photos Taken With iPhone 7 Plus
Following the announcement of the iPhone 7 and iPhone 7 Plus last Wednesday, Apple CEO Tim Cook today tweeted out a link to some of the first official photos that have been taken using the advanced photography capabilities of the larger, 5.5-inch iPhone 7 Plus.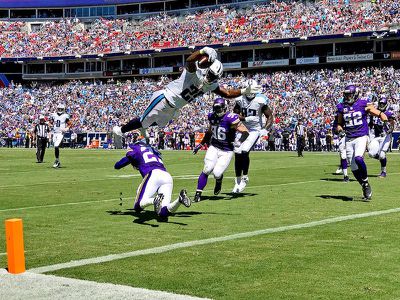 Taken by Sports Illustrated photographer David E. Klutho, the pictures come from the Titans-Vikings game that took place earlier today. Using the iPhone 7 Plus, Klutho was able to take advantage of Apple's new dual-lens 12-megapixel camera, and the 2x optical zoom feature exclusive to the larger model iPhone.


Klutho's shots provide evidence of the crisp and bright photos that can be taken with the iPhone 7 Plus and its second 12-megapixel telephoto lens, but the collection lacks an example of improved low-light photography that Apple touted in the debut ad for the iPhone 7.
Later in the year, the camera app on the iPhone 7 Plus will also be getting a new feature called "Portrait," letting users create photos where the two cameras intelligently detect faces in the foreground, while adding an artful blur effect to elements in the background.


The smaller 4.7-inch iPhone 7 packs in similar high-quality photo-taking abilities, without the second telephoto lens and 2x optical zoom. Both new iPhones were announced alongside the Apple Watch Series 2 and AirPods last week in San Francsico. The iPhone 7 and iPhone 7 Plus are expected to arrive this Friday, September 16, with the lucky first batch of pre-order customers already receiving shipment notifications.


Check out the rest of the photos taken using the iPhone 7 Plus here.