Dual Rear Camera Likely to Remain Exclusive to High-End iPhones in 2017
On the same day the iPhone 7 and 7 Plus became available for pre-order, KGI Securities analyst Ming-Chi Kuo has released a new research report outlining his expectations for a dual rear camera in next year's iPhone model.
According to Kuo, cost considerations and a niche appeal for the dual camera, which is found only on the larger iPhone 7 Plus model this year, mean that the feature is likely to remain exclusive to "high-end" models in 2017 as well. Presumably this means the dual camera would again appear only on so-called "iPhone 8 Plus" models should Apple continue to offer similar product lineups.
While an attractive addition for avid picture takers and professional photographers, the iPhone 7 Plus dual-camera is not a mass-market killer application yet. Along with its high cost (estimated at over US$30-40) and the necessity for Apple to enhance the added value of high-end iPhone models, we expect only high-end new iPhone models (30-40% of them) to have a dual-camera next year.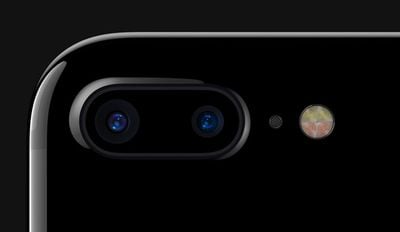 As for what improvements can be anticipated for the dual camera in 2017, Kuo indicates that optical image stabilization (OIS) is likely to be added to the telephoto camera. In the iPhone 7 Plus, only the wide-angle camera has OIS.
Note that for the dual- camera of iPhone 7 Plus, wide-angle CCM is equipped with optical image stabilization (OIS) VCM, while telephoto CCM only comes with general VCM. We believe the focus of the dual-camera upgrade will be equipping telephoto CCM with OIS CCM, so as to significantly enhance optical and digital zoom quality.
While 2017 would normally be considered an "S cycle" for the iPhone that would focus on internal improvements rather than changes to the external appearance of the device, rumors have suggested Apple is embarking on a major "iPhone 8" or "iPhone X" upgrade as the iPhone turns ten years old. Apple is reportedly looking to move to a glass body and a flexible edge-to-edge OLED display that curves around the sides of the device. The 2017 iPhone may also see the removal of the iconic Home button and perhaps include features such as wireless charging and an iris scanner.