9.7" iPad Pro's 'Excellent' Display is 'Major Upgrade' Over iPad Air 2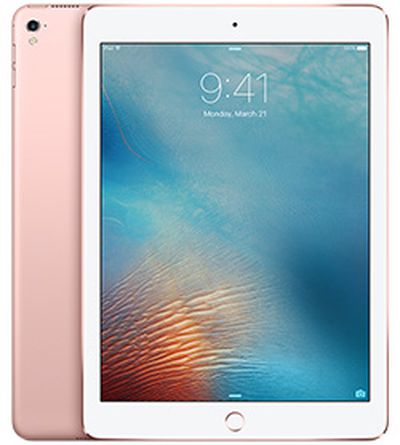 DisplayMate has performed in-depth testing of the new 9.7-inch iPad Pro and determined that its IPS LCD display is a "truly impressive top performing display" and a "major upgrade" over the iPad Air 2.
While both tablets have similar tech specs, including matching 4:3 aspect ratios, 2,048×1536 pixel resolutions, and 264 PPI, Apple has made several underlying improvements to the 9.7-inch iPad Pro that qualified it as DisplayMate's "best performing mobile LCD display" it has ever tested.
Specifically, the exhaustive display shootout found the 9.7-inch iPad Pro to have two color gamuts that deliver "color accuracy that is visually indistinguishable from perfect" and "very likely considerably better than any mobile display, monitor, TV or UHD TV" that most people own.
The tablet uses a "new DCI-P3 Wide Color Gamut that is used in 4K UHD TVs and Digital Cinema," in addition to the sRGB/Rec.709 gamut, described as "the color standard for most content" that is "needed for accurate color reproduction," that all previous iPhones and iPads have used.
DisplayMate also determined that the 9.7-inch iPad Pro display is "more than 20 percent brighter than the other current iPads" and the "brightest full size production tablet" that it has ever tested. The tablet's brightness measures 511 cd/m2 (nits), compared to 415 nits for the iPad Air 2.
The 9.7-inch iPad Pro also has "by far the lowest low screen reflectance of any mobile display," meaning that its image colors and contrast in high ambient light -- such as sunlight -- will "appear considerably better than any other mobile display." The tablet uses a new anti-reflectance coating that reduces its reflectance to just 1.7 percent, compared to the iPad Air 2's reflectance of 2.5 percent. The difference can amount to longer battery life in real-life usage.
The 9.7-inch iPad Pro earned high marks for its contrast ratio of 1,022, described as "very good" for a mobile display, and almost identical to the iPad Air 2. However, its ratio was slightly lower than the record 1,631 for the larger 12.9-inch iPad Pro. Similarly, the 9.7-inch iPad Pro's contrast rating in high ambient light is 301, by far the highest that DisplayMate has ever measured, and topping the iPad Air 2's rating of 166.
The tablet was found to have "excellent viewing angle performance" with "no visually noticeable color shifts," recording a 47 to 55 percent decrease in brightness at a "modest 30 degree viewing angle," which DisplayMate said is slightly better than the iPad Air 2 and all other iPads. Meanwhile, the 9.7-inch iPad Pro and iPad Air 2 had the same overall power efficiency.
The 9.7-inch iPad Pro's display also outperformed its larger 12.9-inch sibling in virtually every category:
The display on the new iPad Pro 9.7 outperforms the iPad Pro 12.9 in every single display performance category except (obviously) size, and then just its Black Luminance, which results in a higher Contrast Ratio in the dark. The iPad Pro 12.9 is still a very good display, it's just that the iPad Pro 9.7 is so much better than anything else.
DisplayMate speculates that Apple could adopt several of these improved display technologies on the iPhone 7:
Since Apple likes to expand new technology across its product lines, an educated guess for the upcoming iPhone 7 is that its display could be a small version of the iPad Pro 9.7. Improvements could include adding the new DCI-P3 Wide Color Gamut and also adding an Anti-Reflection coating that could lower the screen Reflectance from the current iPhone 4.6 percent down to 1.7 percent (a factor of almost 3 improvement). Both of these would also improve the iPhone screen performance and readability in high ambient light. True Tone could be added if Apple upgrades the Ambient Light sensors so they measure Color in addition to Brightness.
Read the full-length 9.7-inch iPad Pro vs. iPad Air 2 display shootout for detailed analysis and in-depth comparison charts.