Apple Announces Swimproof 'Apple Watch Series 2' With Built-In GPS and New Ceramic Edition
Apple today announced the second generation Apple Watch, which it's calling "Series 2," confirming a handful of previously rumored features on the wearable device. Series 2 is swimproof and water resistant up to 50 meters, so users can "wear their watch with confidence in the water." The company also confirmed that Series 2 has built-in GPS so users can get more accurate pace and distance readouts during running workouts.
Apple's announcement was focused on the fitness features of Apple Watch Series 2, particularly attempting to craft intelligent and user-friendly swimming workouts on the wearable device. The new algorithims it has developed are for pool and open water swimming sessions, with Series 2 able to "count laps, track average lap pace and auto-detect stroke type to accurately measure active calorie burn."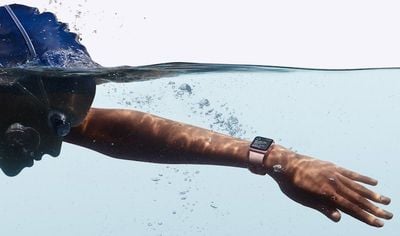 "We're thrilled with the response to Apple Watch and how it's changed people's lives. We are committed to fitness and health and think our customers will love the new capabilities of Apple Watch Series 2," said Jeff Williams, Apple's chief operating officer. "With a powerful new dual-core processor, water resistance 50 meters and built-in GPS, Apple Watch Series 2 is packed with features to help our customers live a healthy life."

Thanks to the built-in GPS, Apple Watch Series 2 can record precise distance, pace, and speed readouts during outdoor runs and bike rides, all without needing to take an iPhone along during the workout. The connected iPhone Activity app will allow users to delve into even more detailed information about their workout session after they're finished.
With a dual-core processor and all-new second-generation S2 chip, Apple Watch Series 2 is up to 50 percent faster than the first generation. A new GPU also improves the device's overall graphics performance, allowing for a display that's 2x brighter (ranked at 1,000 nits) than the first Apple Watch, so it's easier to read in bright sunlight.
In addition to aluminum and stainless steel models, the company is introducing a new ceramic Apple Watch Edition in Series 2, which has a pearl-like, smooth white color. Apple briefly touched upon a new set of Hermès bands, as well, including versions of Single Tour, Double Tour, Cuff, and Double Buckle Cuff.
Although specific casing prices and band collections have yet to be divulged, the company did confirm that Apple Watch Series 2 will start at $369, and the ceramic Apple Watch Edition will start at $1249, with pre-orders taking place on September 9 and an official launch on September 16. Apple Watch Hermès starts at $1149, and Apple Watch Nike+ starts at $369, but ships in October.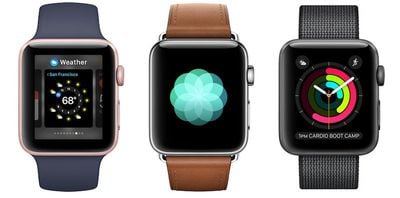 Beginning Friday, September 16, Apple Watch Series 2 will be available in: Australia, Austria, Belgium, Canada, China, Denmark, Finland, France, Germany, Hong Kong, Ireland, Italy, Japan, Luxembourg, Netherlands, New Zealand, Norway, Portugal, Puerto Rico, Singapore, Spain, Sweden, Switzerland, Taiwan, UAE, the UK and the US.
As a side note, the company is also now calling generation one "Series 1," and will have models starting at $269, with a processor upgrade to put it on the level of Series 2. The same order and launch dates of September 9 and September 16 apply for Series 1.