Apple has reportedly hiked orders for parts and components required for the production of the upcoming iPhone 7 and 7 Plus, according to sources from the supply chain in Taiwan (via DigiTimes).
Apple shipped on average 30 million iPhone 6s units a month in the second half of 2015. The company originally predicted shipments of the iPhone 7 this year would reach only 60 percent of that number over the same period, but supply chain sources are today reporting that Apple has boosted its original prediction by 10 percent.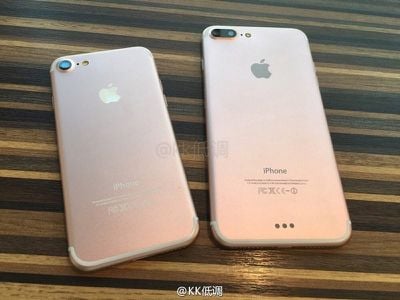 Dummy mockups of iPhone 7 handsets
The hike in order volumes suggests Apple is increasingly upbeat about demand for the new devices among existing iPhone owners seeking to upgrade, despite relatively subdued interest in the iPhone 7 models compared to the pre-launch buzz of previous years.
Another potential factor in Apple's upward revision is Samsung's global recall of its Galaxy Note 7 smartphone last week, which followed numerous complaints that the device caught fire while charging. The news arguably couldn't have come at a worse time for Apple's biggest rival, which has pitched its Note 7 as a direct competitor to Apple's 5.5-inch iPhones.
Samsung has already voluntarily pulled its flagship device from 10 countries, including South Korea and the U.S. Target has reportedly stopped selling the phone, while Amazon and Best Buy have also said they are no longer selling the Note 7. In the latest blow, Consumer Reports has called for an official recall which would make it illegal to sell the phones in the U.S.
Samsung has told customers it will take at least 14 days to replace their phones, and with several mobile operators including T-Mobile offering full refunds to Note buyers over the same week the new iPhones are expected to be announced, Apple's offering could prove a tempting alternative.
A lot depends on how fast Apple can fulfill pre-orders for its new handsets. While the company typically releases an iPhone about two weeks after introducing it, scheduling information from AT&T indicates that the iPhone 7 might not launch until later in the month, on September 23.
Previous information from notable smartphone leaker Even Blass suggested pre-orders for the iPhone 7 will take place this Friday, September 9, two days after the debut event. That date is in line with the schedule from AT&T.
However, Blass also predicted an iPhone launch for September 16, so if the AT&T information is accurate and does relate to release preparations, the previous prediction could be incorrect. September 16 and September 23 are both likely candidates for an iPhone release date.
Despite Apple's revised orders, some suppliers reportedly remain worried that the uplift could be short-lived, given that order volumes for new parts and components may start drifting down in Q4 "on seasonality".
Be sure to check out our "What to Expect" post for a recap on other announcements expected at Wednesday's event and stay tuned to MacRumors for other last-minute news and rumors.
We'll have full live coverage here on MacRumors.com on the event day, as well as through our MacRumorsLive Twitter account, starting at 10:00 AM Pacific Time.