Corning Announces Super Scratch Resistant 'Gorilla Glass SR+' for Wearable Devices
In 2015, Corning announced "Project Phire," a new material that combines the strength of Gorilla Glass with the scratch-resistance of sapphire, and as of today, the result of that project is ready to launch.
Now called "Gorilla Glass SR+," Corning's latest product is a composite material for wearable devices. It's been designed to cut down on visible scratches while continuing to deliver all of the features of the original Gorilla Glass.
According to Corning, Gorilla Glass SR+ offers scratch resistance similar to sapphire but with 70 percent better damage resistance against impacts and 25 percent better surface reflection. Corning says these optical improvements enable better battery life and improved outdoor readability.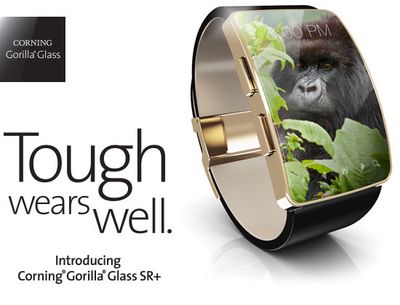 "In early 2015, Corning launched Project Phire with the goal of engineering glass-based solutions with the scratch resistance approaching luxury cover materials, combined with the superior damage resistance of Gorilla Glass," said Scott Forester, director, innovation products, Corning Gorilla Glass. "Corning Gorilla Glass SR+ delivers a superior combination of properties that is not available in any other material today - it is in a class of its own."
Corning is a long-time Apple Supplier, and its Gorilla Glass products have been used in the iPhone and the iPad for several years. For its wearable device, the Apple Watch, Apple currently uses Ion-X glass for the Sport model and sapphire glass for the stainless steel and Edition models.
It is not clear if Apple will consider Corning's newest product for any future versions of the Apple Watch, but if it is superior to current technology, it is a possibility. Corning says Gorilla Glass SR+ is now commercially available and is expected to be in products from "leading global brands" starting later this year.