Opera has warned users of the browser that an unknown hacker has managed to gain access to its sync system, potentially compromising the data of around 1.7 million users.
The Norwegian company said in a blog post that "some of our sync users' passwords and account information, such as login names, may have been compromised" following the hack, and encouraged users to reset passwords for third-party sites.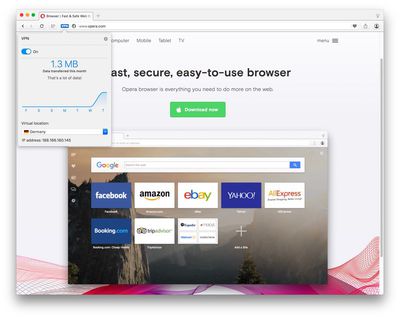 Although we only store encrypted (for synchronized passwords) or hashed and salted (for authentication) passwords in this system, we have reset all the Opera sync account passwords as a precaution.

We have also sent emails to all Opera sync users to inform them about the incident and ask them to change the password for their Opera sync accounts. In an abundance of caution, we have encouraged users to also reset any passwords to third party sites they may have synchronized with the service.
Opera's web sync feature lets uses synchronize their browser data and settings across multiple devices. Opera notes that the total active number of users of the feature in the last month is less than 0.5 percent of the web browser's user base of 350 million people, and that the password reset is a precaution.
Security scares have been a recurring theme for online services recently. Last week, Dropbox told its users that the firm was resetting passwords for anyone who had not changed theirs since mid-2012. The preventative measure was enacted after the company learned about an old set of user credentials that was stolen in a hacking incident nearly four years ago.