A Kickstarter project for a high-performance desktop GPU that can plug into a MacBook via Thunderbolt and is compatible with the Oculus Rift VR headset has raised its backing target of $50,000 in less than 24 hours.
The Wolfe is a portable box that contains an Nvidia desktop-class graphics card and connects to a MacBook or other laptop via Thunderbolt 2 (or potentially Thunderbolt 3), and promises vastly improved performance for gaming, virtual reality, graphic design, and video editing.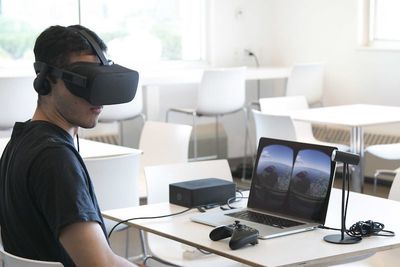 The team behind the Wolfe claims owners of newer laptops can expect performance increases up to 500 percent when using a Wolfe box, or up to 1000 percent with the Wolfe Pro, while older computers are said to see even more dramatic performance gains.

The Wolfe contains an NVIDIA GTX 950 GPU - 768 cores operating at 1024MHz, for a peak compute power of 1.57 TeraFLOPS.
The Wolfe Pro runs on an NVIDIA GTX 970 GPU - 1664 cores operating at 1050MHz, for a peak compute power of 3.49 TeraFLOPS.

What about NVIDIA's 10-series GPUs? As of right now, The Wolfe Pro includes an NVIDIA GTX 970. However, it's more than likely that Wolfe Pro level backers will be able to opt for the new GTX 1060 in our post-campaign survey for even better performance.
The box runs off a 220W PSU and has three DisplayPort 1.2 connections, one HDMI 2.0 and one DVI-I port. The Thunderbolt connection also offers the potential for more than one Wolfe box to be used with one laptop, for building a render farm or for a multi-monitor setup, say the makers.
Kickstarter early-bird pledges of $399 or more get backers a Wolfe box powered by a GTX 950 with the option of Thunderbolt 2 or 3 connectivity, while a standard pledge costs $449. An early-bird pledge for the Wolfe Pro is $549 ($599 for a standard pledge). A Wolfe DIY pack for modders who want to use their own GPU costs $269.
The makers note that while the Wolfe will increase laptop display performance, the best results are expected to come with using an external monitor or VR headset, due to the inherent bandwidth restrictions in Thunderbolt 2.
The project was conceived by a group of Harvard computer science graduates and Mac-owning gaming enthusiasts, after they hacked together a prototype GPU box in a DeWolfe dorm room at Harvard.
The team has continued to improve the hardware and software at the Harvard Innovation Lab, with the aim of making Macs "performance powerhouses" and "to stop big companies from charging outrageous prices for minuscule upgrades" by letting users take control of their computer's performance. The Kickstarter project page quotes a shipping aim of February 2017.
The project comes five months after Oculus Rift founder Palmer Luckey suggested VR headset support for the Mac was "up to Apple," and that the company needed to "prioritize higher-end GPUs." If Apple builds a machine that can handle the hardware, Oculus VR would "love to support Mac," said Luckey.
Update September 23: The Wolfe team has canceled its Kickstarter campaign and refunded all pledges due to uncertainty over product certification.
We're writing today to share some important news: we are going to be cancelling our Kickstarter campaign, and refunding your pledges in full. Our success has attracted the attention of some big players in the industry, who recently reached out to us about the Wolfe. Through these conversations, it became clear there would be some uncertainty in attaining the product certifications essential for the Thunderbolt 2 (and thus macOS) versions of the Wolfe.
The team notes it remains committed to the project and is working with "new partners in the industry" to develop "an even better product."