Steve Jobs to Be Inducted Into International Photography Hall of Fame
The International Photography Hall of Fame and Museum, in celebration of its 50th anniversary, has announced that Steve Jobs will be posthumously inducted into its Hall of Fame in St. Louis, Missouri, which recognizes the work of pioneers, artists, and innovators who have pushed photography forward.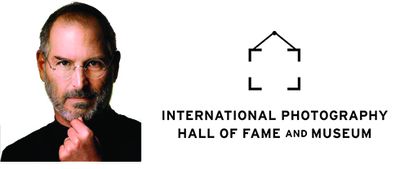 Jobs will be one of eight new inductees on October 28, alongside Photoshop co-creators John Knoll and Thomas Knoll, documentary filmmaker Ken Burns, photographers Ernst Haas and Annie Leibovitz, singer-songwriter and digital photographer Graham Nash, and documentary photographer Sebastião Salgado.
"As we look ahead to the next 50 years of the IPHF, we are honored to continue to recognize and celebrate photographers and industry professionals that have made significant contributions to the profession, helping to shape and define modern photography," said Patty Wente, executive director of the IPHF. "This year's inductees represent the perfect combination of innovation and artistry; bridging photography's pioneering past with its fantastic future."
Jobs' induction is closely linked to the iPhone, which Apple in the past has described as the world's most popular camera:
Steve Jobs was an American inventor and entrepreneur who cofounded Apple and led it to become the world's most innovative company. Steve helped create products that revolutionized the creative world and became essential tools for designers, filmmakers, music producers and photographers. Passionate about photography both in his work and personal life, his most profound contribution to the artistic community and the world is the iPhone which, in less than a decade, has changed both the art of photography and the industry around it.
Past inductees include Philippe Halsman, who famously photographed Albert Einstein in 1947, Ansel Adams, George Eastman, Edwin Land, Edward Steichen, and 64 other esteemed professionals. Inductees must have made a "notable contribution to the art or science of photography" and "have a significant impact on the photography industry and/or history of photography."
Jobs, who co-founded Apple alongside Steve Wozniak and Ronald Wayne in 1976, passed away on October 5, 2011.