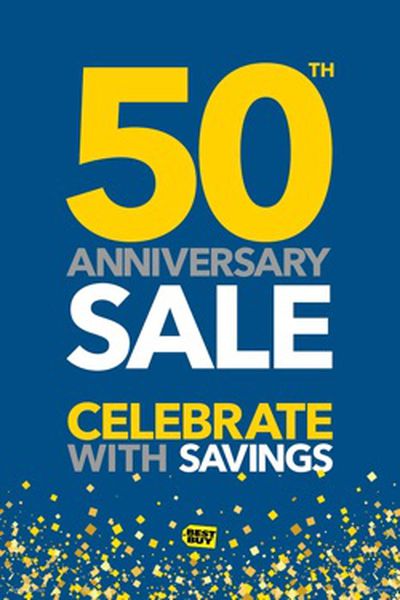 Best Buy is celebrating its 50th anniversary on Monday, August 22 and in honor of the occasion, the retailer is offering 50 deals for 50 hours, dropping the prices on a wide range of products from television sets to computers.
Of interest to those potentially looking to purchase an Apple device, Best Buy is dropping the price of some MacBook Pro models by $150, and students can save an additional $150 for a total discount of $300 through Best Buy's Student Deals program.
Best Buy is also offering the iPhone 6s for $1 or the iPhone 6s Plus for $99.99 with the purchase of a two-year contract on Sprint or Verizon Wireless. For those who want to buy an iPhone 6s or 6s Plus using AT&T Next, Best Buy is offering a $200 gift card with purchase.
Other discounts include $180 off Beats Studio Wireless Headphones and tons more. A full list of deals is available from the Best Buy website.
Best Buy's sale kicks off at 10:00 p.m. Central Time on Thursday and lasts through 11:59 p.m. Central Time on Saturday.
To see the best prices on a wide range of Apple products, make sure to check out our deals roundup, which has tables featuring discounts from a number of different retailers.