Sales of Apple Products Down 20% at Target
During the second quarter of 2016, sales of Apple iPads, iPhones, and other devices fell 20 percent at popular retailer Target. Target CEO Brian Cornell highlighted the sales drop during an earnings call where he suggested the decline was due to a lack of "newness" and "innovation" and blamed poor Apple sales for Target's disappointing Q2 earnings results.
According to Cornell, electronics sales decreased by double digits, with Apple product sales responsible for a third of the overall drop.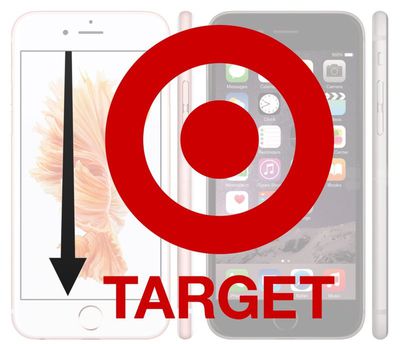 "Our guests come to us looking for those products," Cornell said on a conference call to discuss earnings. "They're looking for the newness and the innovation. We're putting together plans with Apple and our merchandising teams to make sure we're ready to take advantage of that in the back half of the year."
In the first calendar quarter of 2016, Apple reported its first year-over-year revenue decline since 2003 and its first ever drop in iPhone sales, sending its stock into a downward spiral. The negative trend continued into the second quarter with another year-over-year revenue drop, and based on Apple's forecast for the third quarter of 2016, a third consecutive decline in revenue is expected.
Apple expects to see revenue of $45.5 billion to $47.5 billion in the third calendar quarter of 2016, up to 12 percent lower than the $51.5 billion in revenue it saw in the third calendar quarter of 2015.
Device sales could turn around for Apple following the upcoming release of the iPhone 7 and iPhone 7 Plus, but as rumors suggest the changes being introduced in the two new devices are moderate, Apple's downward trend could potentially continue into 2017. Apple does, however, have some impressive products on the horizon, including the 2017 iPhone, which has caused stock to rise more than 20 percent over the course of the last three months.
The 2017 iPhone will mark the 10th anniversary of the original iPhone and to celebrate, Apple is rumored to be introducing some of its most significant iPhone changes ever like a dual curved edge-to-edge OLED display with a built-in Touch ID sensor, wireless charging, a glass body, and more.