First Machines Using Kaby Lake Processors Coming This Fall, but MacBook Pro Not Likely Among Them
At today's Intel Developer Forum, Intel CEO Brian Krzanich and other Intel execs showed off its 7th Generation Core, Kaby Lake. While information shared on Kaby Lake was limited, there was an on-screen demo of two machines equipped with Kaby Lake processors, shown editing 4K video and using built-in graphics to play popular Blizzard game Overwatch.
Kaby Lake is hardware accelerated for the HEVC Main10 profile, meaning it can "play the highest quality 4K premium content on the market today without a hitch." An HP two-in-one laptop on stage was used to edit 4K video and a Dell XPS laptop was used to show off Overwatch, which ran seamlessly on the machine thanks to Intel's efforts to "push the boundaries of processor graphics."
For those unfamiliar with Kaby Lake, it is the third chip manufactured using Intel's 14-nanometer process, following Broadwell and Skylake. It's a semi-tock with optimized microarchitecture, offering support for Thunderbolt 3, native USB 3.1, and DisplayPort 1.2.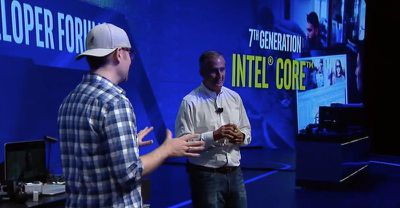 According to Krzanich, Kaby Lake processors are already shipping to Intel's manufacturing partners and will launch in new devices coming this fall, something we already knew following a July earnings call. Krzanich did not provide a further breakdown on when chips appropriate for some of Apple's machines long overdue for updates will launch.
Intel often launches low-power 4.5W Y-series chips and 15W U-series chips first, neither of which are suitable for use in the machine that people are most curious about, the MacBook Pro. According to an old Intel roadmap, Kaby Lake chips appropriate for use in the MacBook Pro, the iMac, and the Mac mini won't launch until the very end of 2016 or the beginning of 2017, meaning any Apple machines released in the fall of 2016 may be limited to Skylake chips.
Rumors suggest the MacBook Pro is getting a major overhaul this year, with a slimmer design, Touch ID support, and a built-in OLED touch panel. There's no specific word on a launch date, but it is expected sometime after the September iPhone event and before the end of the year, pinpointing October or November.
During today's event, along with touching on its 7th Gen processors, Intel outlined Project Alloy, a "merged reality" open source hardware project described as "the next version of VR," allowing objects from the real world to be brought into the virtual world and vice versa. On stage, this was demonstrated with a dollar bill that was used to manipulate a virtual object. Intel also announced TXL labs, a production studio "dedicated to pushing the limits of technology for production," and a new drone platform.