Twitter Looking to Launch Apple TV App for NFL Live Streaming
In a piece covering Twitter's successful effort to win live streaming rights for Thursday night National Football League games this season, The New York Times reports that Twitter is in discussions with Apple to launch a Twitter app for the Apple TV that would let Twitter's users watch the NFL games on Apple's set-top box.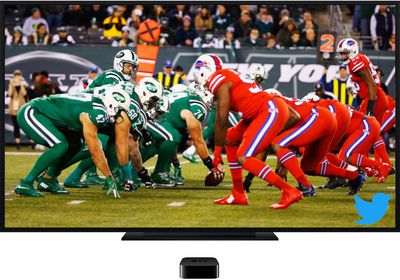 Twitter has directed [Chief Financial Officer] Mr. [Anthony] Noto, a former Goldman Sachs banker with deep ties to the sports media industry, to lead the charge on live streaming and has assigned an engineering team to create its streaming video player. Jack Dorsey, Twitter's chief executive, considers streaming a critical component of the company's focus on "live" experiences, along with Periscope, its app that allows smartphone users to live-stream video.

To bolster the effort, Twitter is in talks with Apple to bring the Twitter app to Apple TV, which would potentially let millions of Apple TV users watch the streaming N.F.L. games, according to the two people briefed on the discussions.
Beyond the NFL, Twitter continues to strike deals for other live streaming content, and while the company's strategy for live streaming is not yet "fully formed," Twitter is considering how to bring that content users either in the main timeline or in the Moments tab of the current app for various platforms.
The NFL had solicited a number of companies, including Apple, to gauge interest in streaming rights for Thursday Night Football, but Apple ultimately declined to submit a bid.
Twitter's first Thursday Night Football live stream will take place on September 15 when the New York Jets visit the Buffalo Bills.