Bare iPhone 7 Logic Boards Surface in New Photos
Just a month before the iPhone 7's expected unveiling, a few new images allegedly depicting the device's bare main logic board have surfaced on Chinese microblogging site Weibo (via Steve Hemmerstoffer), showing the major part before any of the device's chips have been added onto the circuit board.
Not much context is given in the images thanks to the lack of chips, but it is widely believed that the 2016 iPhone will house a next-generation A10 processor, produced solely with a variant of TSMC's 16-nanometer manufacturing process used on the A9. Although Apple picked TSMC for its 10nm production, that process is believed to begin ramping up towards the end of 2016 and beginning of 2017.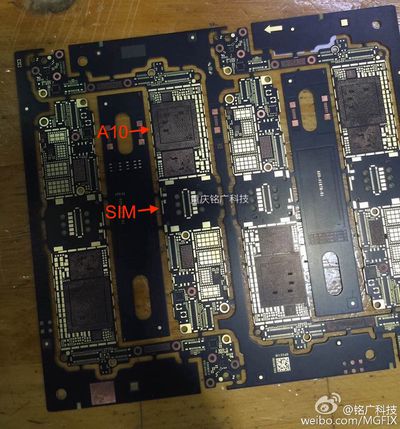 Front of iPhone 7 logic board
The logic board layout is generally consistent with previous iPhones, with a large patch on the front corresponding to the location of the A10 main chip that appears to be roughly the same size as the current A9 chip used in the iPhone 6s. The A10 does appear to sit a bit higher on the logic board than usual, however, with another significant chip placed between the A10 and the SIM card lot in the center of the board.

Rear of iPhone 7 logic board
Other internal parts of the iPhone 7 have leaked this year, like a
Lightning cable assembly
image in May, which opposed rumors that the new iPhone devices will ditch the 3.5 mm headphone jack in favor of a sole Lightning port for both audio and charging. Given the steady growth of rumors surrounding a Lightning-only iPhone 7 in 2016 -- with multiple reports this summer focused on
Lightning-enabled EarPods
and
Accessories
-- the internal cable assembly leak from May appears false.
In June, Weibo was the source of another internal iPhone 7 leak that showed dual SIM trays as a possibility for this year's iPhone. Today's logic board leak, however, shows a space for the SIM slot that appears nearly identical to current iPhones and smaller than the leaked dual-SIM tray, suggesting that the dual-SIM leak was also false.