Apple Music started rolling out across Israel today, over a year after the streaming service was launched in 110 countries simultaneously. The splash screen for a three-month free trial began appearing on Macs and iOS devices for a number of users in the country this morning.
Once the free trial is up, Apple's individual plan starts at 19.90 ILS ($5.21) per month, with a family plan costing 29.90 ILS ($7.83), putting Apple Music at a similar price point as existing services in the country, such as Pelephone Musix.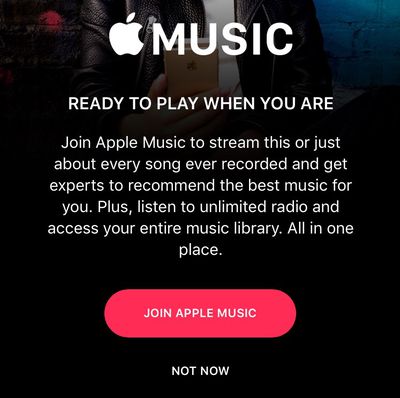 Rumors that Apple Music was coming to Israel first appeared in November last year, although initially it was thought the service was debuting in the first quarter of 2016.
In June, it was reported that Apple was gearing up to launch the service in Korea next, although the company still has some strict copyright law hurdles to overcome in the country.
Apple's streaming music service is an evolution of the Beats Music service it acquired in 2014, and has steadily gained listeners over the past 12 months, reaching over 15 million paying subscribers as of WWDC 2016 in June.
Currently it is available in over 100 territories including Africa, the Middle East, India, Asia, Europe, Latin America, the Caribbean, the United States, and Canada.
With iOS 10, Apple is revamping the design and UX of the Apple Music app, aiming to give its content and features a more logical organization, introducing a new section for downloaded music, and making the Connect aspect of the service less prominent.
(Thanks, Jozz!)