After more than 20 years in operation, once popular software payments processor Kagi yesterday announced on its home page that it has shut down effectively immediately. Longtime Mac users are probably familiar with Kagi, which assisted numerous small developers in accepting credit card payments from users.
Kagi arose in the 1990s on the popularity of shareware, which allowed developers to widely distribute their software with time or feature limits as trial versions and then offer unlock codes for a fee to open up full functionality. Processing credit card payments for these unlock codes was difficult for small developers who didn't have the manpower or financial resources to handle payment issues or deal with setting up merchant accounts with credit card companies, and Kagi provided a solution for those developers by handling the payment processing, code distribution, and development and maintenance of store pages.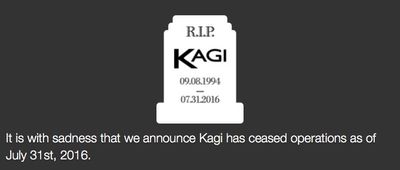 With the evolution of payment processing in the form of PayPal and Stripe, Kagi's popularity waned, though it continued to be used by a number of small developers. Ultimately, however, that user base was not enough to sustain the service, with founder Kee Nethery also citing a decade-old case of supplier fraud that Kagi was never able to recover from as a major reason for finally closing down.
Based on the notice posted on Kagi's site and emails sent to developers using the service, a third-party company is "dividing up the Kagi assets and distributing them to the creditors," so it is possible some developers may not receive the full amount they are owed as Kagi shuts down.