Bluetooth Headphone Revenue Overtakes Non-Bluetooth Ahead of iPhone 7 Launch
As the launch of the iPhone 7 approaches, Bluetooth headphone purchases are on the rise, according to new data shared by NPD Group. In June, Bluetooth headphone revenue overtook non-Bluetooth for the first time, accounting for 54 percent of headphone dollar sales and 17 percent of unit sales in the United States.
The overall headphone category saw seven percent year-over-year growth in pure dollar sales during the first half of 2016, but Bluetooth headphones saw double-digit growth during the same time period. A solid cost decrease helped spur Bluetooth headphone sales, with average selling prices down 5 percent. Nearly 30 percent of Bluetooth headphones sold during 1H 2016 were less than or equal to $50.
"Promotions and new product introductions have helped spur the growth we are seeing in Bluetooth headphones," said Ben Arnold, executive director, industry analyst for The NPD Group. "Consumers are already embracing a wireless future and if, as rumored, the headphone jack is removed from the next iPhone, we expect this will continue to drive market share of the Bluetooth category."
Apple's Beats brand and LG dominated the Bluetooth headphone market during the first half of the year, accounting for approximately 65 percent of dollar sales. Bose, Jaybird, and Skullcandy were the other manufacturers to make it into the top five brands, in that order.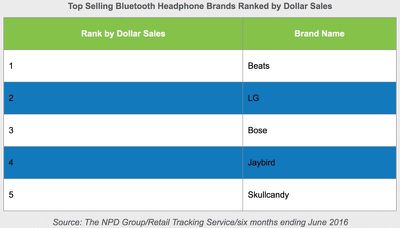 With the iPhone 7 and the iPhone 7 Plus, Apple plans to eliminate the headphone jack, requiring consumers to rely on Lightning adapters, Bluetooth-enabled wireless headphones, or headphones that include a Lightning connector. Apple's decision will undoubtedly lead to even greater Bluetooth headphone sales as the headphone jack is gradually phased out across its product line and from competing products.