Chinese smartphone manufacturer Xiaomi had a surprise in store for attendees of its new Redmi Pro smartphone launch event today, unveiling its first ever PC laptop, named the "Mi Notebook Air".
The familiar-named $750 aluminum notebook closely resembles a MacBook and features a 13.3-inch 1080p display, up to 2.7GHz Intel Core i5-6200U processor, 8GB RAM, 256GB solid-state storage, and a discrete Nvidia GeForce 940MX graphics card.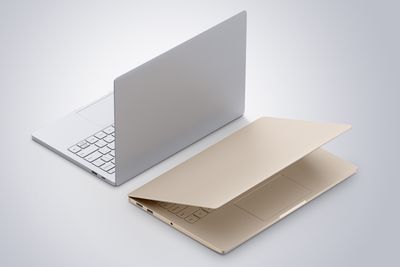 Connectivity-wise, there's a USB-C port included for charging, 2x USB 3.0 ports, 1x HDMI, and a headphone jack. Xiaomi claimed a 9.5 hour battery life for the notebook, which weighs 2.82 pounds.
The company also announced a smaller 12.5-inch (2.36 pounds) model with an Intel Core M3 CPU, 4GB RAM, a 128GB SSD, and integrated graphics, costing $540 in total. Both laptops have a full-size backlit keyboard. The Windows-installed machines will be available in China from August 2, but no details regarding global availability have been given.


According to CNET, Xiaomi partner Tian Mi will manufacture the Mi Notebook Air. Rumors that the smartphone maker was seeking to enter the PC laptop market have been bubbling for a while, and its unapologetically titled debut offering leaves no doubt the company is seeking to emulate – not to mention compete against – Apple in the Chinese market, albeit in the form of a more budget-conscious package.
Xiaomi saw flat revenues last year, with the struggling smartphone sector making up 90 percent of its sales. The move shows the company sees untapped potential in the Chinese consumer notebook market despite suggestions that it may be on the verge of contracting, which indicates the company is also willing to take a risk as it attempts to justify its $45 billion valuation.