Second-Generation Apple Watch Expected This Fall
Apple is planning to unveil the second-generation Apple Watch in September or October, according to a new report from DigiTimes citing supply chain sources in a wider piece on weakening demand for tablets and wearables.
Component makers and Apple suppliers are said to be seeing "rather conservative orders" for the new Apple Watch despite its upcoming release date, information that directly conflicts with a June DigiTimes report that pointed towards "higher-than-expected" orders. Given the confusion over the second-generation Apple Watch in the supply chain, DigiTimes' information does not offer a clear picture of the demand Apple expects to see for the device.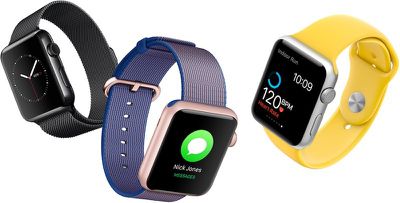 Rumors suggest the second-generation Apple Watch will see under-the-hood spec improvements and perhaps some minor form factor tweaks, but major changes to the device are not expected to be unveiled this year. Improved battery life, a faster processor, and built-in cellular capabilities are all features we could see in a new Apple Watch.
While we can't glean anything about supply from DigiTimes, the September or October timeframe is in line with past rumors. Previous information suggests Apple is perhaps planning to unveil a new Apple Watch alongside new iPhones, and new iPhone models are typically announced in September.
According to a recent rumor, the iPhone 7 and iPhone 7 Plus will be released on Friday, September 16, and if that's the correct launch date for the iPhone 7, we can likely expect to see the Apple Watch released on the same day. With a September 16 launch date, an unveiling event could potentially take place during the week of September 5th.