The European rollout of smash hit Pokémon Go continued today with App Store launches in Italy, Spain, and Portugal, joining the U.K. and Germany where the game debuted in the last couple of days.
In the U.S. alone, players on iOS are spending about $1.6 million each day on in-app transactions within the game, according to data from app analytics firm Sensor Tower. Of those IAPs, 30 percent of the revenue earned goes straight in Apple's pockets.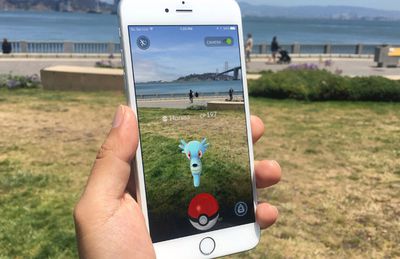 Nintendo shares jumped nearly 10 percent to a six-year high on Friday as the retro-styled title became more popular than Twitter just one week after its launch in the U.S., Australia and New Zealand.
"When you look at the way it's becoming a social phenomenon in the U.S., the rally is understandable even though it's not clear yet how much it will boost profits," markets analyst Toshiyuki Kanayama told Reuters.
"People still remember the time when the Wii and the DS became a hit and boosted Nintendo's shares," he added, referring to the company's popular game consoles – one of which Nintendo has announced will be returning to stores around the world on November 11 in the form of the 'NES Classic Mini'.
Meanwhile, in yet another Pokémon-related incident, two men fell down a 75ft cliff in Encinitas, California, yesterday as they tried to catch nearby virtual creatures. One of the men fell 50ft while the other reportedly fell all the way to the beach below.
According to FOX affiliate local news, rescue crews used a rope to reach one of the men, but despite the large fall neither of them suffered serious injuries.
Direct link to Pokémon Go on the Spain App Store.
Direct link to Pokémon Go on the Italy App Store.
Direct link to Pokémon Go on the Portugal App Store.