Google Offers Free 4-Month Play Music Trial Subscription to Celebrate July 4th
In celebration of July 4th, Google is offering new U.S. subscribers to its Play Music streaming service a four-month trial completely free of charge.
Play Music subscribers can choose from a library of over 35 million tracks, which usually costs $9.99 per month, so the offer amounts to a $40 saving and users can cancel the subscription at any time.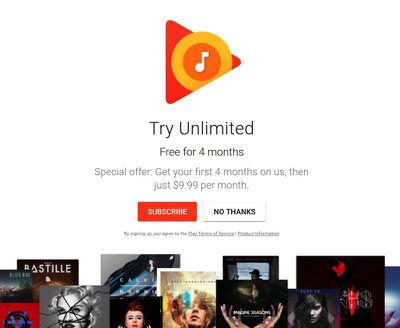 Customers who sign up to the trial will also gain access to the company's ad-free YouTube Red service, which features original content, and enables offline and background playback of YouTube videos on mobile devices.
Prospective users of the service should note that it's a U.S.-only promotion, and is only available to those who have never signed up for Play Music or YouTube Red in the past.
Google Play Music is a viable alternative to Apple Music, Tidal, and Spotify, as the company offers an iOS app as well as desktop access via a web browser. Third-party standalone apps like Radiant Player are also available for accessing the service on a Mac.
In addition to music streaming, Play membership includes access to a cloud storage locker where users can store up to 50,000 of their own songs, with or without a paid Play Music subscription, using the Google Music Manager client.
Google's promotion comes the same week that Spotify accused Apple of using its App Store process to stymie rival streaming services after Apple rejected a Spotify app update.
Apple responded to the accusation through its lawyers, who said Spotify was seeking exemptions to rules that have applied to all app developers long before Apple Music was introduced.
Apple Music also celebrated its one-year anniversary earlier this week. The service has 15 million paying subscribers, far short of Spotify's user base, which is roughly twice that amount.