Apple Music and NASA Team Up on Short Film and Exclusive Songs Celebrating Juno Mission
Apple and NASA have collaborated on a short musical film [Direct iTunes Link] called "Visions of Harmony," which is designed to celebrate NASA's Juno spacecraft reaching Jupiter's orbit. First launched in 2011, Juno is expected to enter Jupiter's orbit on the evening of July 4, giving us our closest ever look at the gas giant and the secrets hidden beneath its dense cloud cover.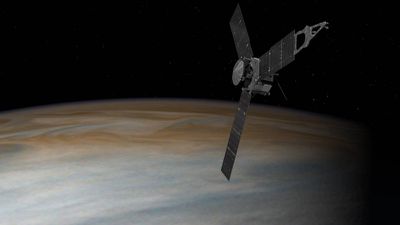 Artist's rendering of Juno in Jupiter's orbit, image via NASA
According to the new "Destination: Jupiter" section of Apple Music, Apple has collaborated with NASA and the Juno team to offer "education and inspiration throughout the historic journey."


"Visions of Harmony" celebrates the link between exploring space and making music, featuring songs from artists like Weezer and Nine Inch Nails frontman and Apple exec Trent Reznor. Reznor and collaborator Atticus Ross created a song inspired by sounds emitted by Jupiter, which features actual recordings from the planet, while Weezer wrote a single called "I Love the USA."
Other music featured on Apple's Destination: Jupiter page comes from artists like Corinne Bailey Rae, Quin, Brad Paisley, Zoé, Jim James, and GZA the Genius.