The University of Cambridge has awarded seven "distinguished individuals" with honorary degrees -- known as the highest honor bestowed by the University -- in fields like law, business, and medical science. One of those honored was Apple's own Jony Ive, who received a doctorate in science for the "elegance, purity and beauty" he brought to personal computers in his time at the company.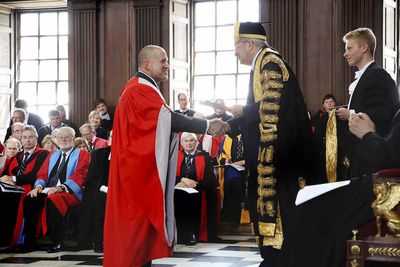 The man credited with introducing elegance, purity and beauty to the design of personal computers as Apple's chief designer was also honoured. A doctorate in science was conferred on Sir Jonathan Ive, Chief Design Officer at Apple, in recognition of his impact on the world of computing and in making technology approachable through design.
Cambridge won't be the only esteemed university giving Ive an honorary degree, as Oxford plans to bestow a similar honor onto Apple's chief design officer next week. The Oxford ceremony recognizes ten figures from similar fields as Cambridge, including theology, law, economics and, in Ive's case, science.
At Oxford, Ive will be named a "Doctor of Science," alongside neurobiologist Dr Cornelia Bargmann and physicist Mildred Dresselhaus. The honorary degrees will be given out at the University's annual Encaenia ceremony on June 22.