While Niantic and The Pokémon Company's much-anticipated iOS and Android game Pokémon Go is still a few months from launch, TechCrunch recently got to go hands-on with the app to discover how it plays in a real-world scenario. Walking around San Francisco, TechCrunch's Greg Kumparak particularly liked the game's endearing ability to encourage hometown exploration, alongside its more intense, cooperative aspects.
Kumparak notes pausing at the base of the Bay Bridge when his phone vibrated to notify him that a virtual cache was hiding nearby. When opened, some historic details about the bridge were shared, alongside a few Poké Balls and one Pokémon Egg. Later, when he and the Niantic team arrived at a major San Francisco landmark -- Cupid's Span -- his phone notified him again, this time that a Pokémon was lurking nearby.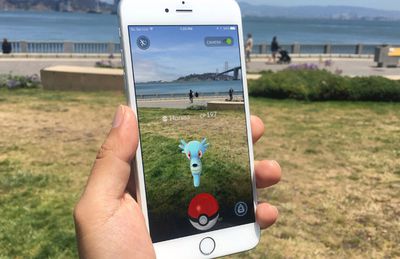 After catching a Horsea near the shore of the Bay, Niantic encouraged Kumparak to engage in a battle in the nearby "Gym," located at Cupids' Span. Previous news surrounding the game detailed a user's ability to choose the yellow, blue or red team, who would all be in constant battle over gyms scattered throughout the real world.
As Kumparak battled within the Gym, Niantic divulged information on the cooperative elements required by players who take on Gyms with more than just one or two simple, low-level Pokémon.

To take over a gym, you have to boot out the Pokémon that are already there. You and your friends can work together to take them on; if you win, you get to leave some Pokémon there to defend it. Battles are fairly simple (it seems mostly about tapping the screen quickly vs. the strategy of the original games.) As more players join, gyms get more and more powerful, capable of holding more Pokémon, and thus harder to take over.

"So might it ever reach a point where you'll need, say, dozens of people to gather together in one place to take over a gym?", I ask.

"Oh, absolutely", one of the devs responds. "That's what's supposed to happen."
Overall, Kumparak came away largely pleased with Pokémon Go, saying that the experience made him want to "walk around San Francisco aimlessly" to discover new Pokémon and find a few new items for his character. A release date has yet to be set for the augmented reality game, but Niantic has said it aims to launch the game by the end of 2016.
Check out TechCrunch's full hands-on report of Pokémon Go for more details on the game and how it plays.