Apple today added four new channels to its universal search functionality on the fourth-generation Apple TV, including support for Bravo, E!, Syfy, and USA. The feature lets users find specific media content across multiple apps using the Apple TV's text or Siri voice search.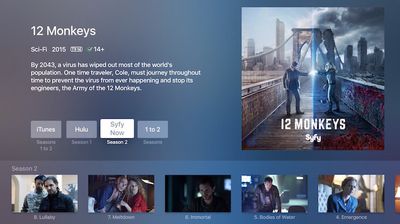 Users can keep up-to-date with which apps are carrying support for universal search in the company's dedicated support document. The four new apps today follow a steady stream of additions to universal search over the past few months, including NBC in May and CBS in April.
Apple's rate of adding new apps to universal search also seems to be increasing, considering that the Apple TV apps for Bravo, E!, and Syfy launched on the fourth-generation device just a few weeks ago. The current U.S. lineup for universal search encompasses the four major networks, services like iTunes, HBO, Hulu, and Netflix, and other channels including Disney, National Geographic, and FX.
Netflix and iTunes remain the sole apps supported by universal search in Australia, Canada, France, Germany, and the United Kingdom, while in most other territories only iTunes content is supported.