Earlier this year, rumors suggested Apple would expand Apple Pay to allow iOS users to make purchases from websites, and now Digital Trends says Apple will indeed introduce such a feature at WWDC.
Starting on Monday, Apple Pay will reportedly be able to be used to make purchases from select partner websites, serving as an alternative to PayPal. As with all Apple Pay transactions, purchases from websites will be confirmed using the Touch ID fingerprint sensor on the iPhone.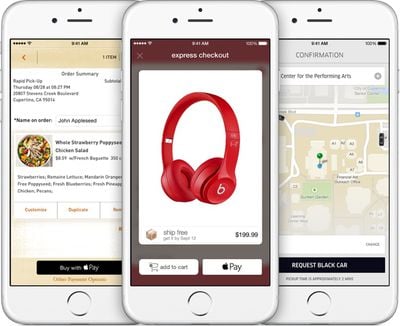 It is not known if the feature will be limited to Safari and only available on iOS devices. We have heard rumors suggesting Apple plans to allow the iPhone to be used to unlock a password-protected Mac using Bluetooth, and if such a feature is implemented, it could also presumably be used to approve web-based purchases on a Mac.
Based on our source's information, it's unclear whether you will be able to use Apple Pay on the web from a device that does not have a fingerprint sensor, such as a MacBook or a PC. It's also unknown whether a specific browser will be required to make purchases with Apple Pay online.
At the current time, Apple Pay can be used to make purchases in brick and mortar stores and in third-party apps that support the service. An expansion of Apple Pay to the Safari browser will alleviate the need for customers to download a store's app to make a payment with Apple Pay, resulting in a payment service that is simpler to use and more accessible.
Apple Pay could potentially be a major focus at WWDC, with other rumors hinting at Apple Pay support in new countries and person-to-person Apple Pay payments.