Coach Apple Watch Bands Set to Launch on June 12
For the last several months, well-known luxury brand Coach has been quietly working on a set of designer Apple Watch bands created to match Coach handbags, and now those bands are set to debut on June 12.
Haute Écriture's David Boglin de Bautista has been sharing details on the design of the bands gleaned from sales representatives and over the weekend, he learned Coach retail stores will be receiving the bands starting next week.
Coach is planning to release the bands in three styles: Leather Strap with Charms, Wild Beast Camo, and Tea Rose Appliqué, with each style available in three colors for a total of nine bands. High-quality photos of each style were shared by de Bautista.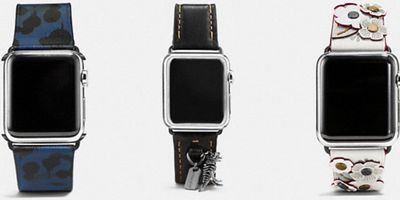 Coach salespeople are readily sharing information on the bands with customers, and a redditor was able to snap a photo of a product guide that depicts all of the new bands and their color options. Leather Strap comes in black, white, and saddle brown, while the Wild Beast Camo band is available in denim, military green, and saddle brown. The Tea Rose band will be available in black, white, and tawny orange. All bands are listed as women's bands and will be priced at $150.


Coach has reportedly made the Apple Watch bands in small quantities and one sales representative told de Bautista that she expects them to sell out quickly. The bands will be available in select stores in California, Nevada, and New York, and will not initially be available online.
It was originally unclear if Coach was teaming up with Apple on the bands or releasing them independently, but it appears the bands will not be sold by Apple. Apple offers its own line of Apple Watch models and luxury bands through a partnership with Hermès.