Apple Honors the Life of Muhammad Ali on its Homepage
Apple recently updated the homepage of its website with a tribute to legendary boxer Muhammad Ali, who died on Friday at age 74. Ali was admitted to a hospital earlier in the week due to respiratory ailments, which were further complicated due to a lengthy battle with Parkinson's disease.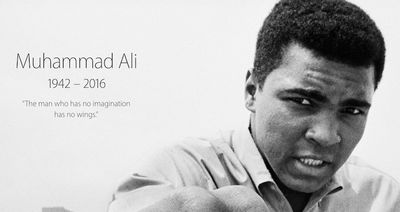 The tribute on Apple's website includes a quote that reads, "The man who has no imagination has no wings." Apple has been a long-time supporter and admirer of Ali, showcasing the boxer in one of its famous "Think Different" campaign videos back in 1997.

"He who is not courageous enough to take risks will accomplish nothing in life." Rest in peace #MuhammadAli — Tim Cook (@tim_cook) June 4, 2016
Following the announcement of his death on Friday, Apple CEO
Tim Cook
shared a commemorative Tweet about Ali on his account, as did
Phil Schiller
. Ali's family has also taken to Twitter to share more details about his passing and honor his life,
including his daughter Hana
.