Apple's 2017 iPhone May Feature Dual-Curve OLED Display
Though the 2017 iPhone is more than a year away from launching, we're already hearing non-stop rumors about the device due to the major design changes Apple is expected to introduce. The latest rumor, coming from IHS analyst Kevin Wang, suggests the 2017 iPhone will include a dual-curve OLED display that covers the left and right edges of the device.
On Chinese social networking site Weibo (via PhoneArena), Wang said Apple will release a device with sloping edges similar to the Vivo XPlay 5 or the Galaxy S7 Edge.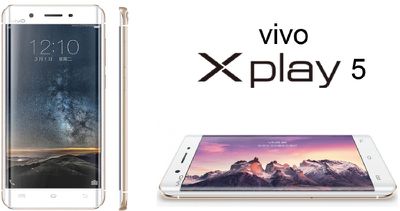 Kevin Wong's exact words are that after Vivo outed the Xplay 5 with its 5.4" OLED screen that slopes to the sides like on the S7 edge, there will be more manufacturers using this technique, including Apple with next year's iPhone.
Apple is already rumored to be using flexible OLED displays for the 2017 iPhone, which will be necessary for any kind of dramatically curved display. It is not clear from Wang's statement how far the display will extend to the edges of the device and whether it will be a subtle curve for design purposes or a functional wraparound display as Samsung uses in its Galaxy Edge devices. The Galaxy Edge's wraparound display features side buttons and alerts accessible when the phone is face down.
Wang does not offer details on where he is sourcing his information from, but it is presumably coming from the Asian supply chain and Apple's myriad manufacturing partners. Supply chain information can be difficult to interpret at times and Wang does not have a well-known track record, but he has shared some semi-accurate information on the release of the iPhone SE. Earlier this week, Wang said the iPhone 7 will have 32GB as minimum storage tier.
Apple has reportedly secured 5.8-inch OLED displays from Samsung, and a previous analyst prediction has suggested that a display of that size could perhaps be used to wrap around the edges of a 5.5-inch iPhone, speculation that agrees with Wang's prediction.


Other rumors about the 2017 iPhone, which may be called the "iPhone 8" instead of the traditional "iPhone 7s" because of the changes expected, include an edge-to-edge bezel-free display with built-in Touch ID functionality, no home button, and a glass body.
An edge-to-edge display that extends upwards towards the top and bottom of the device, as has been rumored, does not seem to mesh with rumors of a wraparound display, leaving a lot of questions about the actual display we'll see in the 2017 iPhone. As the 2017 launch date creeps closer, we'll undoubtedly learn more about the device, giving us a clearer picture of the changes Apple is implementing.