Siri Creators Offer First Demo of 'Viv', the Self-Coding Voice Assistant
Siri co-founders Dag Kittlaus and Adam Cheyer have offered their first public demonstration of Viv, the much-anticipated voice assistant that promises an advanced level of human-computer interaction. The demo took place yesterday at TechCrunch's Disrupt NY event, where Viv's creators wasted no time showing what the new AI bot is capable of.
Kittlaus began by asking Viv what the weather was like today, but then continued the conversation with increasingly complicated queries, like "Was it raining in Seattle three Thursdays ago?" and even "Will it be warmer than 70-degrees near the Golden Gate Bridge after 5pm the day after tomorrow?" Viv had no problems answering the stacked requests, showing a clear awareness of context.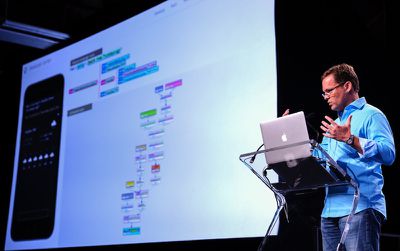 Viv CEO Dag Kittlaus demos the new AI bot at TechCrunch Disrupt NY (Image: TechCrunch)
Viv's enhanced contextual awareness is thanks to what Kittlaus called "dynamic program generation", a "new science breakthrough" that enables Viv to understand the intent of the user and code its own responses on the fly.
The feature is central to Kittlaus and Cheyer's hopes for a thriving third-party ecosystem for Viv, since developers are fully able to integrate it into their apps' functionality. The idea is that developers will take advantage of the open-ended nature of the platform to create new and increasingly complex experiences in a short period of time, instead of having to hard-code every response specific to their apps' interactive features.
Kittlaus and Cheyer say Viv is
closer to the original vision they had for Siri
, the virtual assistant they created in 2007 which is now built into all of Apple's iOS devices. Google and Facebook have already made offers to purchase the AI bot, but it is not clear if Kittlaus and Cheyer have plans to sell the technology, while early integrations are expected to come "later this year".