Apple Store Worker Says Staff Routinely Get Death Threats From Customers
Business Insider UK this morning published a detailed interview with someone claiming to be a UK Apple retail employee, which provides an intriguing insight into what it's like to work in an Apple Store.
The interview is unusual because every Apple staffer signs a confidentiality agreement on their first day in the job, which apparently prevents them from speaking publicly or announcing their new employment on social media, and even bans them from taking a selfie wearing their Apple T-shirt.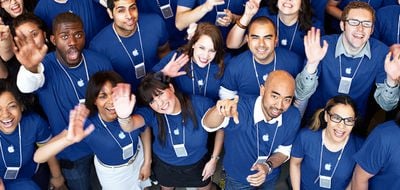 According to the veteran staffer – who remained anonymous in fear that Apple would pursue a legal action against them – Apple pays about £8 per hour in the UK (around $11.70) and staff receive no bonus incentives for sales, leaving many unable to afford the products they sell.
The worker claims that although positions in the company's stores are highly prized, Apple doesn't promote internally in the UK either, and that staff are prevented from transferring from part-time to full-time employment as a matter of policy.
"We had between five and eight store managers during my time at the store, of varying kinds," says the staffer. "Only one of them had started at Apple, the rest had been recruited from elsewhere – from, say, Dixons or HMV."

They did try to fix that with a 'Lead and Learn' program, where you train on the shop floor by acting as a manager without being a manager. We had some great people on the shop floor, people who had been there for five years, who were selling more than anyone else. But they were still just specialists or experts [two of the lowest ranked positions at Apple].

As far as I'm aware — and I'm still in contact with these people — no-one on this programme has been promoted to manager. There are other jobs in-store that can earn you more money, but they're technical jobs, like working at the Genius Bar, which a lot of people absolutely hated because you're dealing with really angry customers.
According to the worker, Apple Store staff routinely face death threats from unhappy customers, and receive no benefit if they manage to sell an enterprise contract to a business customer worth hundreds of thousands of pounds.
There are some advantages to working at an Apple Store though, says the employee. Staff get a generous discount on Apple products, a 15% discount on AAPL shares, and occasional direct access to CEO Tim Cook.
Apple declined to comment when contacted by Business Insider. The in-depth interview can be read in full here.
Note: Due to the political nature of the discussion regarding this topic, the discussion thread is located in our Politics, Religion, Social Issues forum. All forum members and site visitors are welcome to read and follow the thread, but posting is limited to forum members with at least 100 posts.